With all the discussion, information (and angst) about DSRs and Top Rated Sellers and the eBay change of the week, sellers may forget to pay attention to the basics. New sellers inundated with the volumes to learn may never learn the basics. So today, let's take a trip down "Basic Lane" and take a look at images.
When selling online, the image is the most important piece of sales collateral that you can "hand" to your potential customer. It is the first thing that a potential buyer sees.
You do not need to be a professional to recognize a good image, and you don't need to be a professional to take a good image.
Here's some tips to improve you images:
1. Make sure your item and camera lens are clean. This might seem like a no-brainer, but if you use your camera often, you may forget to check the lens for dust.
2. Light your item. You can create your own inexpensive photography box (or even buy one). For inexpensive lighting, you can purchase clip on lights at any home improvement store. Shine the light onto the product and stand behind the lighting.
3. Unclutter the area. It is not good practice to take an image with other items in the photograph. If you are selling a vase and want to display it with flowers, take an additional photograph, but your main photograph should be of the product and the product only.
4. Take several photographs. Vendio image hosting is inexpensive and having multiple images help sell your product. You will want to take images from several angles. If you sell collectibles, take an image of any makers mark.
5. Resize and crop your image. Make sure that your product is what is seen, not the background.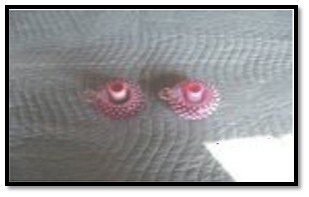 Too much background, lighting is not correct and not showing enough product detail
6. Don't take images with a distracting background. If you are using a backdrop cloth, use plain colors. Plaids and Paisleys will detract from your item.
7. Include a visual reference to size when appropriate. For example, use a ruler or a coin for visual reference to item size.
8. Try not to use a flash, but use lighting instead. If your item is reflective, don't use a flash at all.
One other tidbit to note – the best way to determine if your images are up to par, is to view similar items and compare your items with your competitors. If you have Vendio's eBay research tools, it will display the images of completed items, so you can see at a glance if your images are better (or worse) than your competitors.
Happy Selling!!