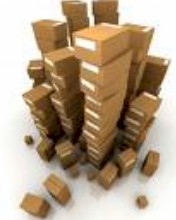 So, right now, you might be gearing up for the holidays..listing more and working longer and it not time to think about inventory. January is a long ways away..Or IS it?
When I talk to sellers, I often find that they carry a lot of excess inventory. Using the term "carry inventory" is no mistake, you might not be physically lugging around the inventory albatross, but excess inventory can be a heavy burden. This is particularly true in the cases of one-of-a-kind sellers who equate having a lot of extra inventory as "money" or even "insurance" (color me guilty) and depending on how you handle your accounting, it might not be either.  It might be time to reduce your inventory.
eBay is having a 50% off listing sale in some categories until November 22nd.  There are two schools of thought and both have merit – Get your popular stuff listed and out there OR List your unpopular items at the cheaper listing cost.
If you use cash base accounting, you don't have to worry about a physical inventory -however you can't deduct the cost of goods until your items sells. In this case, the impetus to sell would be that there is money tied up in inventory that can't be deducted
If you use accrual based accounting, you will typically need to do a physical inventory but you can deduct the cost of goods. In this case, the impetus to sell would be that you don't want to have to spend days doing a physical inventory.
One thing to consider is to get rid of your obsolete inventory. Previously, we posted about "Letting Go of Obsolete Inventory", and this may an opportunity for you to have an inventory reduction sale, or reduce your inventory by using this opportunity to list items and reduce your physical inventory.
As Always, Happy Selling!!