There are many ways to save on eBay fees, but really ONLY three MAJOR ways to reduce fees. SPEND LESS – INCREASE YOUR SUCCESS RATE – SELL OFF EBAY. Those are the three key ways to reduce the fees you spend on eBay. Here are a few ways to tackle them:
Watch Insertion Fees: When listing in the Auction format, pay attention to the insertion fee chart.  A book listed at 24.99 will cost you $.35, but a book listed at 25.00 will cost you $1.00. Doing a quick search today, there are about 1240 books listed in auction format with a starting price of $25.00, which means, eBay collected $806.00 in insertion fees for an additional $12.40 in extra pennies to the seller. I can't stress this one enough. It's totally in your control and it takes literally seconds to glance up at the insertion fee chart.
Consider Selling in Lots – In most categories, selling in lots is a great way to reduce listings fees AND increase the success rate. Using Vendio eBay research tools, the below chart shows that listing single books is much more costly than selling books in lots. This is true in many categories.

For example, on average, Non-fiction books run at a 10% success rate, which means that you will need to list that book about 10 times for it to sell. Listing a book 10 times costs much more than listing a lot of books once or twice. And it's likely you'll get more bids on lots because bidders may be after different books.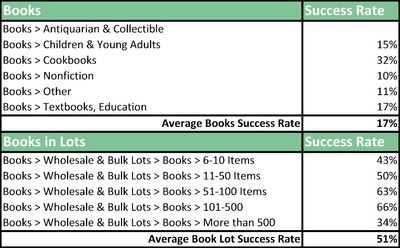 3. Watch your Features – eBay listing features such as listing designer, scheduled launches (10 cents each) can be mitigated. If you want templates or want to schedule – Consider a third party listing software. Vendio Platform includes scheduled listings, and a huge number of templates, and it doesn't cost an extra 10 cents each. Really, stop wasting your money for these 2 features.
Other features, such as gallery plus or subtitle *might* help your success rate. Research (and yes, Vendio Research) will tell you what features drive successful sales for your item.
And one other caution – When using extra fee features, make sure you pay attention to relists.  If subtitle didn't work the first time, make sure it's worth the extra $.50 (or $1.50 for Fixed Price)
4. Increase your Success Rate
Here is one that takes a bit of work. You'll want to make sure your item is optimized. Here's just a few things that can have a major  impact on your success rate. (Note -for all of these below items, Vendio Research provides the data to help you make the correct choices)
a. Format – Is it listed in the correct format (fixed price or auction). It makes no sense to list an item in Fixed Price if it's a one-of-a-kind item and it will not be seen in search results. Consider your DSR ratings and how you place in Fixed Price search results.
b. Keywords – Make sure that a buyer can find your item. Think about what a buyer would be searching for and what search terms they would use. Research keywords to make sure you are using the ones that drive success. There IS a difference between using Season 1 and Season One.
c. Listing Time – Especially important for auction listings, you'll want to have your items ending when people are buying. Quite often, I hear "Sunday Night is the Best Night". Research shows that's not true.
5. Build YOUR Business
These are the hard ones. They will take work. They will  take time and the rewards come slow. But there are great rewards.
a. Build a customer list. If your items are not found in search or you have a low sell through rate, or if you want to grow your business, it's important that you leverage your past customers. Imagine having a Brick and Mortar store where the only customers that ever entered were NEW customers. Repeat business is worth the extra effort
b. Open an off eBay Store. Vendio has a 100% free (no listing fee, no final value fee, no fee for images) store. It's so easy to fall into a trap of list, repeat, list, repeat and so many folks never move beyond that. But in order to grow your OWN business, you should really consider creating your OWN presence online.