eBay system allows sellers to block particular buyers as well as setting blocking conditions:
You can globally block the following:
• Buyers without a PayPal Account
• Buyers in Countries to which I don't ship
• Buyers with policy violations
• Buyers with a negative feedback score
• Buyers who may bid on several of my items and not pay for them
• And you can set a minimum feedback score.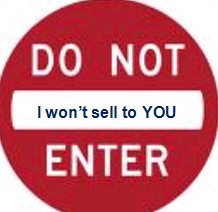 In addition, you can block particular buyers to a blocked bidder list.
There are occasions to use each of these (maybe). For example, if you only take payments from PayPal, then maybe you select to stop anyone from bidding who does not have PayPal account (although it may be a new buyer who is going to GET a PayPal account or will be using a Visa card through PayPal).
The second "Buyers in Countries to which I don't ship" seems to be a good use of this feature. You can always add an exception if they are from Spain but are shipping it to Uncle Walter in Utah.
Policy violations may be a bit "iffy". It does depend on the policy violated. If the buyer is also a seller, it's pretty easy to get a VERO, or other violation along the way.
The others are arbitrary and allow you to set conditions. Stopping a bidder from purchasing more if they haven't paid could be useful.
And then it's onto feedback. Since buyers can only get positive feedback, any negative feedback received:
a. In the past
b. As a seller
And if a buyer doesn't have any feedback (are new), you can also block them. (If everyone blocked 0 feedback bidders, it would mean no new buyers ever!). Not a fan of this one (I can, however, understand it).
Doing a search for "when do I block a bidder" results in a plethora of pretty strange reasons to stop someone from bidding on your items. (Bidder is a republican/democrat, Creepy User ID, etc.
Would love to hear how do you define and set their blocked bidder conditions and if you block individual bidders, why?