eBay has announced some drastic price changes. While the message is "fees are lower", some fees are actually higher. It's a mixed bag of changes with some good and some not so good.
In this blog post, we will highlight the pertinent changes of the new fee structure and highlight the winners and losers.
The Store
For an eBay Store seller who has over 53 listings, the Store subscription can pay for itself in reduced insertion fees. The trick is finding the right subscription. We've added the chart below to assist you in determining the best option.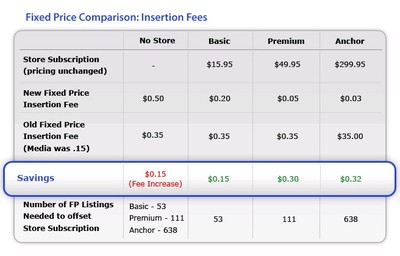 The downside is that other than the fees, there isn't much of a difference between Store and Fixed Price listing. Store items will be treated the same as Fixed Price and other than a few Store features visible on listings; it's not really a "Store". Overall, eBay will end up with more subscriptions for Stores, and sellers can see reduced insertion fees.
It's bad news for the small, occasional seller who does not list at least 53 items per month as their costs have risen quite dramatically. In addition, the concept of a "Store" has pretty much gone by the wayside and has really become a membership to get reduced prices versus providing a true eCommerce store such as those offered by Vendio (free) or Yahoo ($39.95 per month/plus 1.5% FVF). The ability to brand or promote any other non-eBay aspect of your business (e.g. separate online store) is very limited.
The Core
The Final Value Fees for Fixed Price items remains relatively the same, except on a category basis, where sellers face an increase for items over $50.00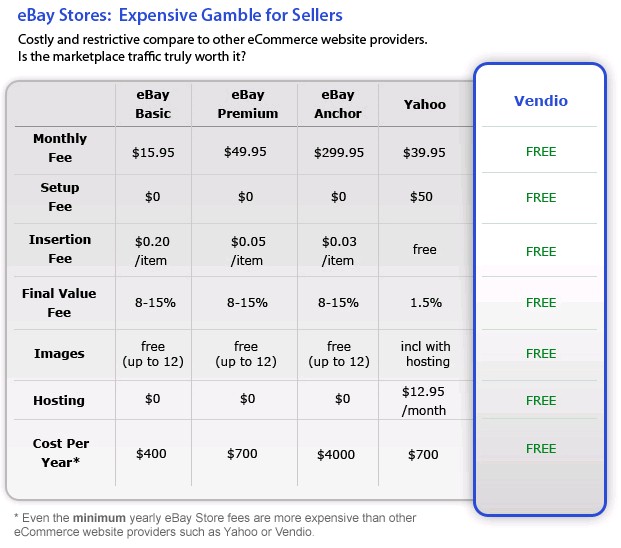 Media sellers who used to pay 15% on the first $50.00 and 5% to $1,000 face a hefty increase on items over $50.00. For example, if I sell a media item for $150.00, my old price would be $12.50 (15% on the first $50, 5% on the next $100), the new price would be a flat 15% or $22.50 for an increase of $10.00. To be fair, many media sellers would not be affected as the prices typically are under $50.00 and they do have an extended special pricing available for a bit longer.
For Auctions, this again is a mixed bag. Insertion fees are lower, but Final Value Fees are higher. A seller can save significantly on items that are higher priced. There is also the ability to list up to 100 free items if you start the price at $0.99 or less. This strategy was fine years ago, but due to an influx of "low start-price, high shipping price" listing strategies, the risks of being burned selling an expensive item for a low amount has increased significantly. Sellers should carefully weigh the risks before they adopt this strategy. This also seems contradictory toward eBay's push to have seller's offer free shipping as it is difficult to offer free shipping on $0.99 items.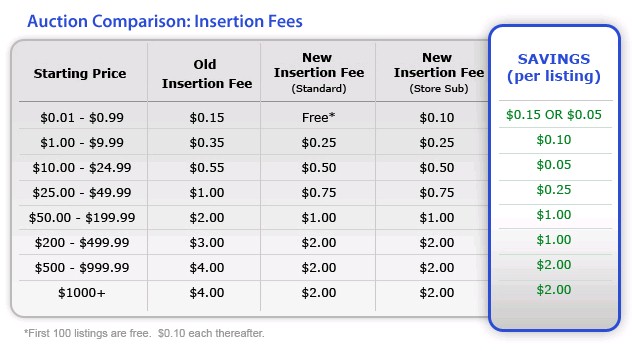 ..and Auctions
For Auction Final Value Fees, it's a price increase. The second tier was increased from $25 to $50, thus you are paying the full shot on items under $50. In the below charts, we looked at both the Standard and the Store subscription and in both cases fees were increased.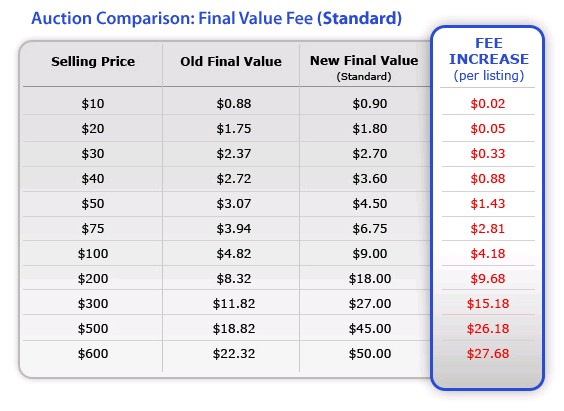 There is a large discrepancy between what a casual seller pays and what a seller with a Store pays as you get into the higher ticket items.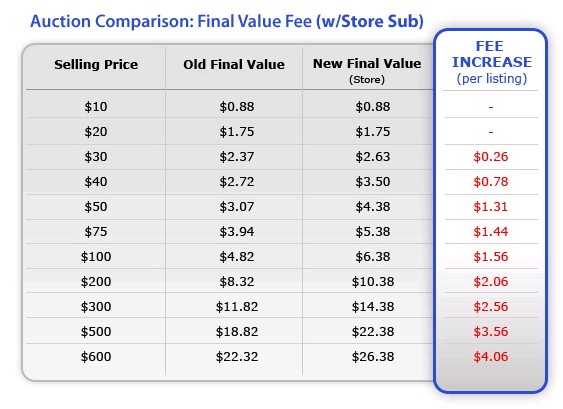 It's curious that eBay is pushing hard for a subscription model. With a subscription model, eBay has less risk if an item does NOT sell as they are getting their dollars through subscriptions and thus would be unlikely to be too concerned if the site becomes saturated. (A definite possibility since there will be a flood of Store items on the Fixed Price market on March 30.)
The Good
Auction insertion fees are lower
Store inventory will be visible on the main site
Reduced insertion fee for Fixed Price with Store subscription
The Bad
Store Referral credits are being eliminated
The 5 Free Auctions per month are no longer available
CAUTION: Store Features, such as Subtitle will be charged full price if not removed by March 30
Barrier to entry is higher and the small casual seller is disadvantaged.
Auction Final Value Fees are higher
The Questionable
100 Free Auction Format Listings when listing under $1.00
There is a small note in the FAQ about ending non-performing listings (Will eBay be ending items if they don't sell for a set period of time?)
The impact on existing Fixed Price sellers from an influx of Store items
In a nutshell, the changes are very sweeping and it will take some time for sellers to determine their best course of action. You can view all of the proposed changes, effective March 30, 2010 here. eBay has a fee calculator to help you figure out what works best for your business.
Have questions? For it? Against it? Have tips or tactics to share? Drop a comment below.