eBay changes, for better or worse, are here. Many of you who read this blog are (or were) seasoned eBay sellers. I wanted to conduct an experiment: experience eBay's changes through "fresh" eyes. This meant starting over.
I dove in last week and listed 160 items to eBay (using Vendio, of course) with a new seller ID. And honestly, based on everything I've read, I expected the worst.
Overall, however, I was very surprised (pleasantly) that it was not too difficult. I'm sure that my previous experience made it easier, but there were no glitches or problems getting my items up and running.
Upon signing up for my new ID, I received two emails from eBay. The first was a welcome email that offered a free personal consultation (nice), a link to buy business equipment (yeah, okay) and a link to education – not a bad introduction.
The second email was a Get Help Selling email with three actions (I took out my name).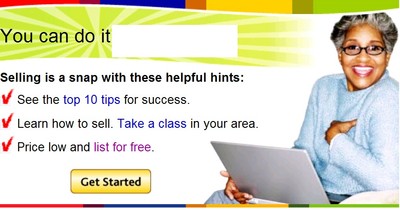 I like the first blurb and the second, but the third is hard for me to like. I've been around the eBay block, but a new seller may end up giving their stuff away at 99 cents or really low – I think it takes some experience to know what to start at 99 cents.
What I expected and what I got were two totally different things. For those who don't like eBay right now, I apologize in advance, but I have been very happy with my eBay experience thus far.
I used the auction format because I wanted a definite end time so I could sell and ship my items quickly and didn't want my item to potentially linger for months.
I thought my items would sit there; I would not get bids and definitely not multiple bids.
But that is not what is happening. So far, out of 160 listed items, 57 items will sell and I have 89 bids. With 2 and 3 days left, I expect that I will sell around 50-60 percent. These stats are pretty amazing for a new seller and my sales stats are on par with the average for the category. I could attribute this to eBay's policies that were directed at trust, but if I did, everyone would be mad at me. So I won't "say" it (but I'll think it).
Another thing that quite surprised me was the lack of buyer emails. From what I've been reading on the boards, buyers seem to deluge sellers with questions. I've had two. Not exactly overkill. This was a bonus because I was expecting to be answer questions every five minutes.
I'm going to do a follow up post and talk about my post sale experience. I'm curious to find out how PayPal hold will affect me and how what my DSR ratings will look like (I'm starting from 0 feedback). I'm definitely more nervous about DSRs than I ever was about feedback.
So next week, I'll share my final totals, my PayPal experience and how the DSRs turn out for a new seller…
Stay tuned.