This is part 3 of an experiment to start selling on eBay (again) in order to experience eBay's recent changes through "fresh eyes". Check out part 1 and part 2
After listing 160 items, selling 120 items and shipping them all out, I thought there would be very little to report in this third part. Boy, was I wrong!
The first 2 parts of this experiment (listing and shipping) were easy. It has been two weeks since the items ended, and yet I'm still dealing with issues.
Let's first talk DSRs and Feedback. While results are still coming in, I ended up with 4.9/4.9/4.8/5.0. I'm not too disappointed in the DSR results, although like all sellers I wanted 5.0s across the board.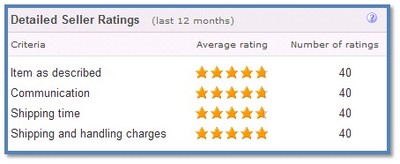 All items were shipped media rate, and that can take up to 10 days (sometimes longer). All items were shipped either the same day or next day depending on the time of the order.
Directly attributed using media mail, I had the following two questions.
1. I know you said that it could take 10 days, but usually that doesn't actually mean the full 10 days – it's been 8 days, where's my package? (it was actually only 7 days and included a weekend).
2. Why did the Post Office route my package through California?
And I know the sarcastic answers popping into your head right now. But I answered the emails without a hint of sarcasm.
I had a ton of after sale questions – way too many, in fact. Despite posting and sending emails with tracking numbers, I had a lot of "where is my item" questions and "did you ship yet" questions. I'm not sure what on eBay entices buyers to be so worried about their packages. It may be the consistent messages about bad sellers, it may even be the feedback system itself or it may be that I just had a curious bunch. I've had heard from sellers that they spend a lot of time on customer email, and from my experiment, I concur.
I did end up with a "5" on the shipping cost and that surprised me. I did NOT offer free shipping, but charged flat rate. Sometimes I paid less, sometimes more but I ended up with about $3.00 more than I paid for all the shipping, so my estimates were good (but let us not forget the $60 spent on shipping materials). I did use stealth postage (where the postage charge is not shown on the label) with Endicia, so I'm going to guess I didn't get dinged for overcharging a few pennies because the buyers did not know.
All in all, it was a good experience. I like selling in my Vendio Store a bit more, there is way less aggravation, but I did enjoy getting back on eBay for a short while. Long term, it would probably turn my hair white.
I do have a few final thoughts about unintended consequences.
I ended up with a "4.8" on shipping time and this caused me to wonder if eBay buyers are paying more than they need to for shipping. As a seller, I would be reluctant to offer media or parcel post over priority in the future. Having shipping time as a DSR causes the seller to be responsible for the carrier time, thus eliminates cheaper (but slower) methods.
Second, there is some reason why buyers do not feel comfortable purchasing on eBay and I'm gauging this on the number of "where is my item" emails that began 3 days after the auction ended. Even providing tracking numbers did not seem to assuage the buyer fear that they were getting ripped off. This is an area that I believe eBay is working on with their eBay Buyer Protection. I'm not sure the word is getting out.
Third, I spent about 8 hours on post sale communication where I sold 120 items, which is about 4 minutes for each item. I can't figure out how large volume sellers deal with this. Let's say they get it down to 1 minute per sold item for 5000 items that's over 80 hours. Do they have to hire two full time employees just to answer emails? I hope this is an area that eBay is working on. I think sellers can be so much more productive if they do not have to answer post sale emails that in most cases are not necessary (I actually feel that the majority of the post sale emails I received were buyers just wanting assurance vs. legitimate questions).
One last item – I did have someone ask me if I was going to relist the 40 items that did not sell and my answer is no. They are going into My Vendio store. I loved the experiment, but it was too stressful watching the DSRs and waiting for an ax to fall. I don't know how sellers do this day in and day out.
Happy Selling!