Monday, July 26th, 2010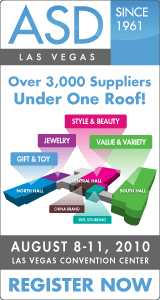 If you're searching for new products to carry – then the free ASD Las Vegas show is where you should go.  You'll meet 3,000 suppliers under one roof and learn how to grow your business through education seminars.
Come meet the Vendio team inside of the Alibaba.com pavilion (follow the orange signs).  This is our first appearance after the acquisition and we're excited to share this trade show experience with our new family.  Stop by the pavilion to relax, play a few games of pool and, of course, learn about how Aliababa.com, AliExpress and Vendio offers everything you need to sell online.
In addition, we'll also be presenting a seminar in conjunction with the Internet Merchants Association (IMA).  Look for the IMA seminars in room N109.  Michael Levit, our VP of Marketing will be sharing a presenting on how to follow the customer.
Details:
Las Vegas Convention Center
August 8-11, 201
Seminar: Monday, August 9th @ 2pm , Room N109
Presented by Michael Levit, VP of Marketing
Follow the Customers – Sell on Amazon, eBay and Your Own Store
E-commerce businesses need to be where the customers are. Selling on branded sites like eBay and Amazon are part of the business plan for many successful e-tailers. Is selling on eBay still a viable option? What are the different ways you can sell your products on Amazon? Learn the answers to these questions – and much more – during this informative session.
Registration is free!  Click here to sign-up and learn more.