We'd all like to see the future, and sometimes it is possible to catch a glimpse without being clairvoyant or visiting a fortune teller.
eBay has a site where sellers can view upcoming changes and see the future, and I encourage all sellers to check The eBay Garden.
eBay calls each of their "ideas" seeds, and the time to weigh in on upcoming item is definitely when they are seeds and not full grown trees that have been released to the site. While I do not know if Fashion Vault made it to the Garden, there are many upcoming things to review.
Because Search is the hot topic, I looked at the Streamlined Search "Seed" and I found it to contain some very good ideas.
• New: Save your search
• New: Quickly and easily add or remove search options from the search header
• New: Customize your list view with a single click
• New: Quickly find hot auctions with a new bid count sort
• Compare auction and Buy It Now listings side-by-side
• Return to the search box without scrolling, with the header that goes where you go
• Refine results to only what interests you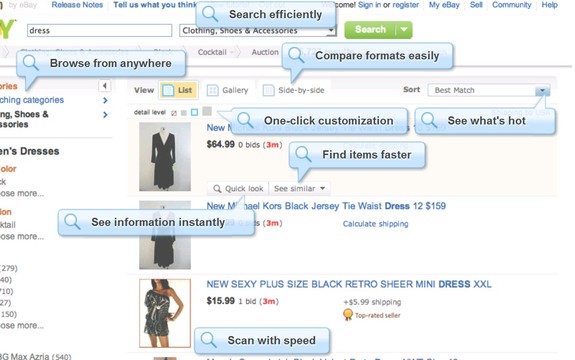 Browse from anywhere – Allows you to change your category from the left navigation panel instead of having to do it by using the drop down at the top available to today
See Information Instantly – A quick look available from the list view which displays item specifics and at-a-glance details about the products.
Search efficiently – Allows multiple keyword selections, so you can search "Casual" and "Clubwear" at the same time.
Compare formats easily – search auctions AND fixed price at the same time in a side by side format!
One Click Customization – Use one click customization to view formats, side by side or gallery view while inside your search results.
Find Items Faster – Narrow or broaden you search results without having to start a new search.
See What's Hot – This adds sort by bid to the Sort by allowing you to find items that either have no bids or have the most bids.
So, when you have a few moments, check out the eBay Garden often and be sure to send in any comments by using the TELL US WHAT YOU THINK button. It's a very good way to let eBay know your thoughts on the future.
Happy Selling!!