Recently, Vendio celebrated a new milestone with our Vendio Stores; announcing over 50,000 stores powered by Vendio!
Some of the key factors in our success are highlighted below:
The success of Vendio Stores can be attributed to a number of key factors:
- Mobile Commerce: Vendio Stores are optimized for mobile consumption. While, according to Quantcast, only 1.6% of the Web is accessed via mobile devices, Clicktale reports that Vendio Stores already receive 3.6% of traffic from mobile devices.
- Integrated Sourcing: A sourcing module through AliExpress.com is included with all stores, offering outstanding wholesale deals. Private sales, streamlined importing processes with buyer protections, and assisted negotiations with suppliers give Vendio merchants an edge.
- Social Commerce: Vendio helps merchants capitalize on Facebook's growing e-commerce capabilities and its 500 million potential customers by offering a Facebook application that enables merchants to sell items from a "Shop!" tab on their Facebook Profile or Fan Page. Merchants can also take their Store with them anywhere on the Web via an embeddable widget.
- Technology: An enterprise class J2EE infrastructure powers all Vendio Stores to provide a robust feature set and enhanced transaction processing speed. Built for reliability, speed and security, Vendio Stores are SSL encrypted, TRUSTe certified and PCI compliant.
- Flexibility: The Vendio Store was created so that merchants of all technical and design skill levels can quickly create a beautiful storefront. Novice merchants can pick from 40+ templates, intermediate merchants can customize their template via drag & drop functionality, and advanced merchants can edit or upload their own code.


- Marketplaces Support: For a nominal price, Vendio offers a leading multi-channel selling solution and enables merchants to take their inventory and easily sell it on Amazon and eBay in addition to comparison shopping engines such as Google Product Search, Shopping.com and Shopzilla.
- Free: Everything about the Vendio Store is free – images, hosting, and unlimited product listings. No ads support the site, and there are no transaction fees. While initially sounding a little "too good to be true", Vendio Stores do not require a credit card to sign-up.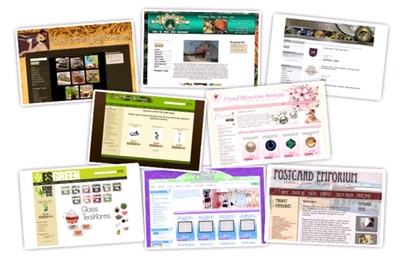 In addition to all that goodness, unless you are a store maven, you might overlook some of the great and easy to use features of the Vendio Store. Here are 10 things you may not know that you can do with your Vendio Store.
1. Google Checkout can be added to your Vendio store. (Preferences>Items)
2. You can use coupons (Promotions). You can even automate them (Preferences>Promotions)
3. You can add your twitter posts to any of your store pages (Stores>Template Editor>My Content)
4. Category Images can be displayed on your Store Home Page (Stores>Category)
5. You can add Google Analytics to your Vendio Store (Stores>Template Editor>Advanced>Google Analytics)
6. When using Vendio Templates, you can change the color scheme and fonts (Store>Template Editor>Templates)
7. You can quickly link outside your store to your eBay auctions, a blog, etc. (File>Create New Page). Once you created the new page simply right click and paste in the URL to your eBay auctions, a blog, etc.
8. You can edit the color on your various page sections (Stores>Template Editor). Click on any area and select "edit color".
9. You can add your store to Facebook in less than 2 minutes (Stores>Applications)
10. You can use Reports for your Vendio Store, even if you do not sell on eBay or Amazon (Analytics>Reports)
Happy Selling!