While eBay Giving Works is around all year, its typically this time of year when people look at charitable giving. I thought I'd share today some things that you may not know about eBay Giving Works and show you how you can easily use Vendio to donate to your favorite non-profit by using eBay Giving Works.
What is eBay Giving Works?
eBay Giving Works is a program managed by Mission Fish, which allows sellers to donate a portion of their item selling price. Sellers can choose to donate between 10% and 100% of their items selling price to their favorite non-profit.
What you might not know
• Insertion Fees and Final Value fees are pro-rated. Thus, if you pledge 50% of an item sale price, you are credited 50% off your insertion fees and your final value fees.
• There are over 600,000 items listed on eBay today
• There are over 18,000 different non-profits to choose from
• You can download a PDF of all your donations for tax purposes
• You can search listings by a specific non-profit
• eBay Giving Works has raised over $190 Million since 2003
• You can use Vendio for your eBay Giving Works items in your eBay Market Profile
• Vendio will save your non-profit profile so that when you list your items, you can select your non-profit from a drop down menu.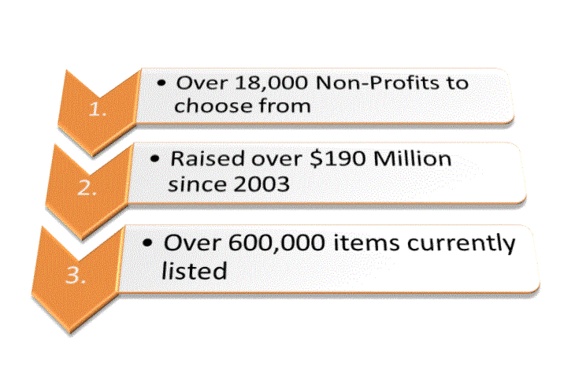 The holiday season is a great time for giving and the eBay Giving Works program is a great method for online sellers to use their expertise to help their favorite non-profits.
Happy Selling!!!