Recently, Vendio added ability to automate getting your tracking numbers on eBay using Endicia (Dazzle) and FedEx and here's a quick look at how to automate your Endica (Dazzle) tracking numbers.
First, you'll want to process your shipping and printing your labels by going to Orders>Sold Items. Under the Needing Shipping tab select the orders you want to ship and select export.
Save the file and import it into Dazzle.
This is where it finding where to go next gets tricky, but it's easy after you do it once!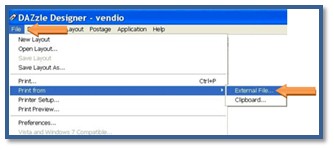 In Dazzle, select DESIGN, then select file>print from external file and select the file you just saved. Process your postage as normal which will generate your tracking numbers.
Now, to bring your tracking numbers into Vendio, you'll want to go to your postage log and select the date range you want to export. Save the file.

The last step is to import your tracking number to Vendio using the file you just saved.

And that is it. Your tracking numbers will be displayed on your Orders>Sold Items page and will populate into the eBay marketplace.
Happy Selling !!