There has been quite a bit of excitement over the +1 button, Google's response to the Facebook Like button.  It was made available today for public usage and may worth a try.
What is the Google +1 button?
The purpose of the +1 button is for Google to continue to help its users discover the best search results.  Therefore, much like any of the social share buttons (Digg, Stumble, Tweet, Like) – you can simply click on the +1 to indicate that you like or recommend the article or website.  Next time a friend or contact (anyone who you're connected to via a Google Profile) conducts a search relevant to the article or website you recommended, Google will show your name in the search result.  It's a subtle way of saying, "hey, someone you know recommended this website so maybe it's more relevant to you?"  As the +1 button grows in popularity, we imagine that it will also serve as a standard of trust – do you trust this website enough to click on the link?  If you're not sure, look for the +1 badge.
Google +1 can also help you bookmark websites that you like.  All your +1′s are stored in your Google Profile.  This comes in handy when you're trying to recall that great hiking trail or cookie recipe.  Or, if you're trying to plan a trip to Shanghai, China, you can bookmark all the foodie blogs that talk about the best soup dumpling so that you can check them out at your leisure.  You can delete your +1′s at any time and choose to share them publicly (or not) via your Google Profile.
Here's a great video explaining how it works.
Why does the Google +1 button matter?
Let's say you're an online business doing a search for "free ecommerce website" (okay, we're being a little biased here), you might see a search results page that looks like this.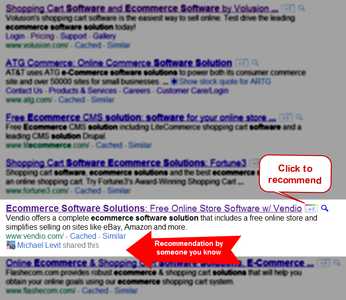 Typically, you would click on the first or second organic search result or perhaps a sponsored ad.  What if, however, you saw that someone you knew had shared a specific site?  Even if the search result is #6 on the page, the fact that someone familiar to you shared this page not only guides your eyes to that link, but could also cause you to click on that link versus the others.  Also, from this search results page, a user can also click the +1 to recommend the website.  Therefore, the popularity of a website can grow quickly and virally.
Furthermore, we know that Google uses signals from social networking sites like Twitter and Flickr in its search algorithms.  Therefore, one could assume that the more a website is recommended via +1, the more relevant it will appear to be and could thus achieve higher search engine rankings.  That alone makes this a very, very powerful tool.
How is the Google +1 button different than the Facebook Like button?
The Google +1 button works very much like the Facebook Like.  You add the code snippet to your website and users can click on it to indicate that they recommend that content.  The difference is that Facebook Likes are only shown within Facebook. whereas the +1 is shown in the web's largest search engine.  The caveat is that like the +1 only appears when you're signed into your Google Profile (essentially any Google account like Gmail or Buzz) and only those who have Google Profiles can participate.
How can online businesses use the Google +1 button?
Think of the Google +1 button as a quickie testimonial or positive review that your customers can leave for your website.  Here are a few tips for you to use this button to promote your website:
1.  If you send out a newsletter to your customers, embed the Google +1 in the newsletter, add it to your list of social icons, or simply ask your customers to recommend via +1 to show love for your website for product.
2.  Add the Google +1 to your website and your product pages.
3.  The temptation here is to "game the system" by falsely inflating +1 or running contests to get users to recommend your website.  Since the release of the latest Panda algorithm, Google is clearly saying that they will not put up with low value sites trying to game the system.  Therefore, we think it's best to educate your customers on the value of the +1 and how it can impact your business and let them decide how to help, similarly to when eBay released Detailed Seller Ratings (DSR's).
How to get Google +1 for your website?
Here's a great Mashable article that goes into more details about Google +1 and the official announcement from Google.  If you're interested in learning how to get a Google +1 button for your website, please click here.