Here at Vendio, we are live, breathe, and eat ecommerce (seriously – we've purchased many lunches and drinks on Amazon).  Whether it's helping Vendio merchants best utilize our ecommerce software to maximize sales or partake in the steady stream of coupons and deals from our sister site, Dealio.
As a result, we see all kinds of marketing offers from all retailers big and small.  Like most consumers, we love freebies.  Therefore, it's disappointing when a "free offer" falls short of expectations.  Most of the time, freebies come with strings – whether it's product/color/style exclusions, shipping and handling costs, or requiring too much personal information. In short – most freebie offers aren't providing enough value for us to handover our personal information.
Today, we came across free offer by CardStore.com – a (you guessed it) personalized card company.  This offer allows you to get a personalized Father's Day card with text and/or photo (not e-card) absolutely free.
Here's what online merchants should learn from this offer: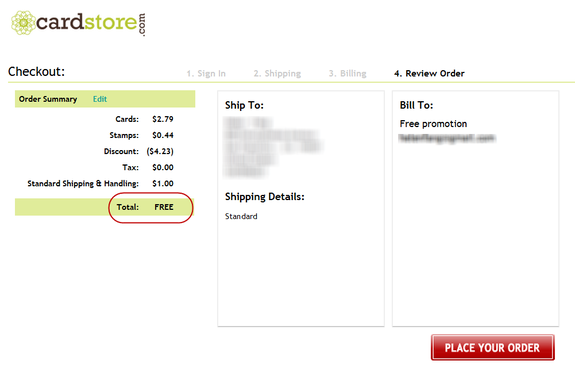 1.  The offer is completely free. You enter a coupon code during step 3 of checkout in lieu of your credit card information, press the "next" button and go immediately to step 4 where you can review your order and click send.
2.  The offer is straightforward. Choose any of the Father's Day cards, add to cart, personalize, send, done.
3.  The offer is segmented.  CardStore is smart. They released two coupon codes to capitalize on this important holiday.
The first coupon: SENDDAD is used in paid search, displayed on their site and available to all visitors.  The offer is good, but not great – free shipping and personalization. You still have to pay $2.97 for the card and add tax and handling.  All in all, you save $0.44 (or the cost of a stamp), but the overall value proposition makes it worthwhile:  send a personalized card including photo(s) and text for less than $4.  That's a huge savings of time, gas, and money.  The second coupon code was only made available for
The second coupon: FREECARD is only for a segmented audience (like affiliate sites and blogs). This secret code enables you to get the personalized card and shipping completely free – no tax, handling, or shipping.  What's most impressive is that you don't even need to enter a credit card.
This two-pronged marketing approach helps to convert the maximum number of website visitors into customers  There's an offer for visitors are not aware of the brand and those who are aware of the brand.  Everyone wins.  Additionally, offering a special code to the affiliate channel or blogs helps to spread the word virally.  And lastly, all customers have to create an account and provide basic personal information.  Combine these factors and you have customers who have interacted with your product, will hopefully be "delighted" with the result, got it at a great deal and are now ready to be converted into paying customers.
Offering freebies can be tricky.  However, if done correctly, your cost per acquisition can actually be lower than other marketing channels.  Consumers are smart and they don't like to be tricked into buying something that is advertised as free. That's the key lesson.  We kept this in mind when we launched Vendio Stores in 2009.  We wanted to build a truly free online store – and we did by offering a version that had no restrictions and didn't even require a credit card.  Many merchants didn't believe us, but went ahead and signed up. Sure enough, after using our software for one month…two month…three…with no charge, they finally got that we were trying to do something different.  Offer a truly free product – no strings attached.