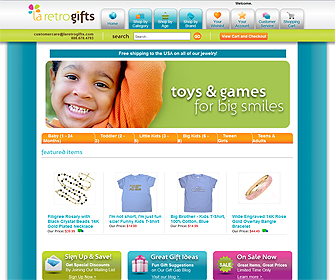 By Debbie Levitt, CEO of As Was
In part 1, we looked at branding your site, thinking about styles of design, and how much "stuff" should be in that design, especially around your home page. Here are more steps to getting the most out of an eCommerce design.
Step 4: Mobile is Hot
Shopping from mobile devices like phones, iPads, and tablets is getting hotter. In 2010, shoppers spent around $2 billion on eBay from mobile devices. This means making sure that you are putting something together that works well for those devices.
The main advice there is to not use Flash as Flash does not show up on iPhones, iPods, or iPads. Don't waste your money having anything done in Flash as it's just not the way to go anymore.
Thinking about mobile and netbooks also means optimizing your site for smaller spaces. Make sure your site looks good at widths of 960 pixels or fewer. Your designer should know what that means. If you don't know what that means, you may not want to do your own design!
Step 5: Can It Be Googled?
If the designer is installing your Vendio store, make sure that the files will be prepared with Google and SEO in mind. If Google hits your site, and doesn't see any of your keywords, what have you really accomplished?
Yes, we've seen websites where the way the design was prepared and installed killed SEO. So again, this is another thing to think about when deciding if you'll do this yourself, or which design company to choose.
Step 6: Get a Real Contract
I am often called by people whose website designers bit the dust. They went and got a "real job." Or they just decided to stop working. They went out of business. They got busy, and don't respond anymore. One thing all of these have in common is that the person calling me often has none of their files. They don't have the original files my company would need to pick up the work, or update/change what they already have. Many design companies seem to think that the best way to keep you as a customer is to not let you have your source files!
You want a real contract. You are doing business with this person or company, and that means a real contract explaining the arrangement between you. Make sure you get your files including source files like fonts, purchased stock images, Photoshop files, or Illustrator files. Make sure that the contract says that you own the work because guess what? Legally speaking (and I'm not a lawyer), a designer or artist owns what he or she makes unless and until rights are transferred to you in writing. That's another fun way a designer sometimes tries to keep customers.
If you don't like the contract, don't sign it. If you don't plan to read it, don't hire that person. It doesn't make sense to do business with someone when you won't take the time to read the terms and conditions under which that business is done. You hate when shoppers don't read your listings or policies, right? Well, then don't do that! Read! It's good for you!
In Summary
In summary, you want to make sure that you know what you're shooting for. What is the mood and personality of this site? "Black background with orange buttons" is not a mood. Those are colors, but not the definition of a company image. So remember to think about the image your business is looking to convey.
What impression are you trying to make when people find your site? Where is the balance between "too much" and "too little" in order to best deliver that impression to your customers?
Does your website look and work well on mobile devices like phones, iPads, and tablets? What does Google see when it hits your site? Does it see gobbledygook, behind-the-scenes coding, or does it see your important keywords and phrases?
And last but most important, real business relationships require real business paperwork. Get a contract. Read it. Ask questions. Make sure it gives you what you want, and talk to the vendor if the contract needs to be changed. Also remember a vague contract is sometimes vague to jump up and bite you later! So make sure things are very specific, and make sure the contract doesn't have you agreeing to something unknown in the future. It should all be spelled out now.
Good luck with your design adventure! Whether you choose to design your site yourself, work with us, or check out other design companies, these are all steps you can take to make sure that your project goes more smoothly, and that the end results is something you'll love!