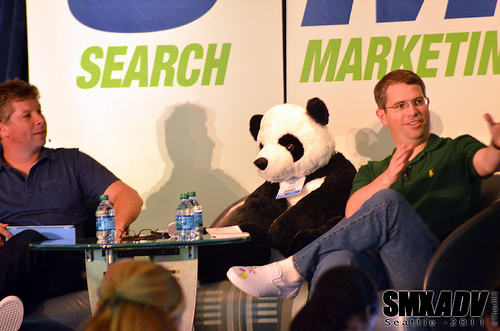 (Image Courtesy of Thos003)
In April, Google released a major update to its search algorithm designed to take the quality and reputation of a site more into account in page rankings. The update was dubbed the Panda update, and was part of a huge wave of changes to the Google algorithm, including the Caffeine Mayday and Farmer updates.
Taken together, these changes to the Google algorithm have revolutionized the way that Google ranks pages. No longer is each page ranked simply by metrics like how many links go to it or how many visitors it gets. Instead sites are indexed based on a large number of factors, like length and quality of site content, the presence or absence of any duplicate content, and social signals like user ratings, social media connections, and quality backlinks. The indexed sites are then ordered and ranked to return site results.
In the wake of all these changes, many site owners have seen a marked decline in their page rankings and subsequent site traffic. By using  Google Analytics, these site owners saw marked declines right at the rollout of the Panda update, indicating that they were probably flagged by the Panda as a "low-quality" site for some reason or other.  Others saw a more spread out or gentle decline in the wake of all the other changes and tweaks that followed Panda.
In the wake of the Panda/Farmer updates, many online merchants found that the advertising dollars they were spending on SEO tactics were no longer effective and turned instead to solutions like email marketing software. While connecting to clients via email and social channels like Facebook and Twitter is important, there are several things that online merchants can do to restore their site's reputation in Google's eyes so that their rankings will bounce back and their traffic will return.
Improve your quality: The most important way to improve your ranking is, quite simply, to improve the quality of your content. The Panda update (and related changes) were intended to take site quality into account, and they have done a good job. The best way to improve your page ranking is to get a steady influx of quality writing, pictures, and video onto your site.
Double check:  Google has admitted the algorithm isn't perfect, and some sites that still have value, like public forum sites, might be flagged by the update for "duplicate content" or "thin" posts. If you think your site was hit by the Panda in error, you can contact Google with your objection and they might whitelist you.
Improve your site architecture:  The domain authority of your site is like a fluid, and if your links are poorly organized and head nowhere, authority will leak out of your site. Make sure your architecture is tight and your links are all getting people where they need to go. I have neither the space nor the expertise to get into all the specifics here, but you can check out this guide.
Avoid duplicate content: This connects back to Tip #1, but it bears elaboration.  One of the biggest no-nos that the Google algorithm now penalizes sites for is the presence of duplicate content on any of your pages. Make sure that nothing from your site is copy/pasted from anywhere else on the web. Rewrite all duplicate content in your own words.
Make social networking connections: Having Facebook, Twitter, and other social networking accounts proves that you are a real person and that your site has a meaningful connection to other real people. It increases the legitimacy of your site and appeases the Panda.
Watch the ads: Make sure any ads on your site are reasonable and non-invasive. If ads are too prominent on your page, Google might penalize your site. It's hard to say how much is too much, but a good rule of thumb is that the content should be more prominent than the ads.
Improve your reputation: Social signals affect your site's ranking. So if you share links with a lot of low-quality sites, it will drag your own reputation down, whereas if you share links with high-quality sites, it will improve your reputation. Evaluate the sites that you link to and have backlinks from. Try asking the lower-quality sites to remove your backlinks, and try to get more backlinks on higher-quality sites instead.
For more guidance, see Google's own advice on the topic.