ISRAEL PROOF BRONZE MEDAL BIBLICAL REBECCA
High Quality Uncirculated Gem Bronze Medal
Catalog Ref. /
Grade: UNC
Diameter: 40mm / 1.575 inch
Wight: 20gr / 0.705 ounce
All items are backed by our 100% AUTHENTICITY GUARANTEE
If you a real collector, you don't want to miss this kind of item in your collection!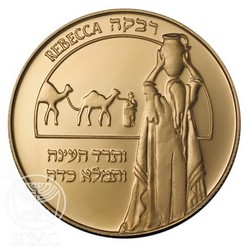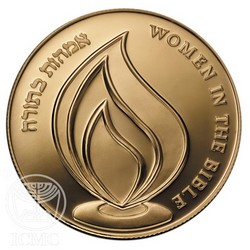 What you see is what you will get!
The actual note may have a different serial number. Please use the image as a reference only.
BM-IL000-05700
REBECCA
Second in the "Mothers in the Bible" Medal Series
The Matriarch Rebecca was a woman of decisive opinion, steadfast in her way.

Eliezer, the emissary of Abraham, was sent to find a wife for Abraham's son, Isaac. He met Rebecca near the well and she responded to all his requests with incredible understanding. Eliezer is received as a guest with Rebecca's family and when asked if she would agree to marrying Isaac, Rebecca confidently and decisively replies: "I will..." (Genesis 24:58)

Rebecca became the wife of Isaac. During her pregnancy, she felt difficulties, she felt fighting within her. We are told in the Book of Genesis that Rebecca "went to inquire of the Lord", not Isaac but Rebecca herself, and she gave birth to twins – Jacob and Esau.

When Isaac was elderly and his sight was failing, he asked Esau, the firstborn, to prepare tasty food and intended to bestow many blessings upon him. Rebecca sensed danger in this for the future and took immediate action by calling Jacob and preparing him to serve his father with the tasty food and receive the blessings, before the arrival of his brother. Esau never forgot and never forgave Jacob for stealing the blessings. Again, Rebecca was forced to save her beloved son Jacob from the anger of Esau. Her decisive actions were to save the people of Israel for all time.
Rabbi Eliyahu Marciano

The medal depicts Rebecca carrying the pitcher on her head, before drawing water from the well for Eliezer and his camels. The medal reverse, common to each of the medals in this series, bears the eternal flame that symbolizes the lineage that began with Sarah, the first Matriarch, and continues until this day.





| | |
| --- | --- |
| SHIPPING & PAYMENT INFORMATION | |

Buyer pays basic fee for shipping and handling. Each additional item shipping and handling fee is between $0.10 - $0.99. We will combine shipping for multiple items. In order to receive combined shipping, please let us send you the invoice with combined shipping BEFORE YOU PAY. When you are finished purchasing, simply email us a request to calculate the combined shipping total. We will combine the shipping charges and send you the eBay invoice to save you money. Normally, goods will be shipped within 3-4 days after payment received.

Shipping charges include time, material and postage to ensure your items are shipped quickly and are delivered safely. Shipping charges and Insurance requirements are listed below.

DISCOUNT SHIPPING

United States, Canada, Germany, Great Britain *Romania and Israel.
* (Free shipping to Romania & discount by paying via banktransfer)

INTERNATIONAL SHIPPING

We ship to Worldwide, except the following regions : Bahrain, Dubai, Eritrea, Iran, Iraq, Kuwait, Lebanon, Libya, Pakistan, Saudi Arabia, Sudan, Syria, West Bank (Palestinian National Authority), United Arab Emirates & Yemen.

INSURANCE

Registered mail (include shipping insurance) is advised as I take no responsibility for lost items.

1. Insurance is require to the following: Africa, Asia, South America & East Europe
2. All packages that valued more than $30 must to be insured. The Israeli postal service gives insurance of 403NIS without any other fee for REGISTERED airmail service (paragraph 11.2).

PAYMENT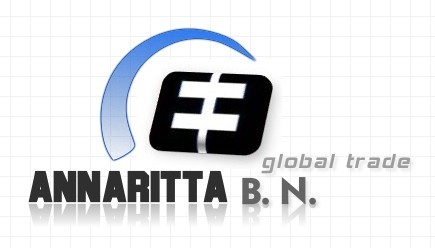 Email: schachar_eli@nana.co.il | Skype: schachar_eli | Phone: +972.779.300.300 | Address: Armonim 90 Qiryat-Yam, 29077 ISRAEL