W E L C O M E

BRAND
NEW
PENTAX® OPTIO E60 10.0 MP POINT & SHOOT DIGITAL CAMERA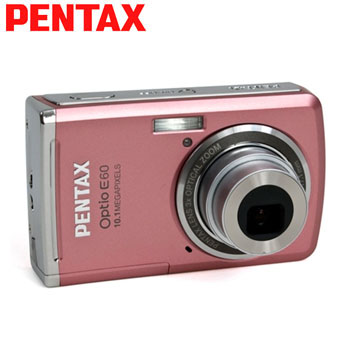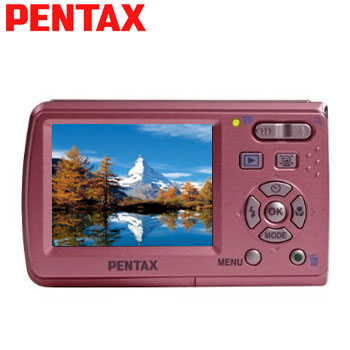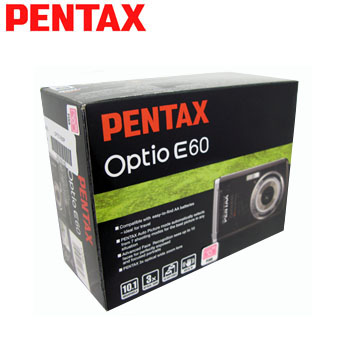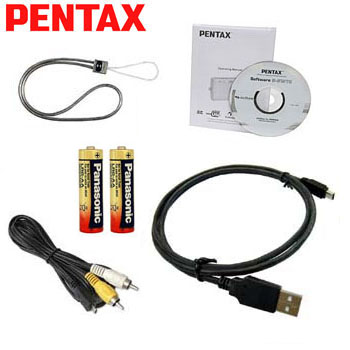 A FUN AND COMPACT 10.1 MP CAMERA THAT IS A CINCH TO USE !

This latest member of the Pentax® Optio E series is newly equipped with an optical 3x zoom lens featuring a wide angle of view (equivalent to 32mm to 96mm in 35mm format) that is perfect for group shots in narrow settings, landscapes and architecture.
The Optio E60 features a variety of modes including Auto Picture, Face Recognition, High Sensitivity Digital Shake Reduction, and a popular Green mode that sets exposure, sensitivity and other parameters with just a touch of a button.
With 10.1 megapixels, the Pentax Optio E60 offers both new and experienced digital users beautiful high-resolution images and a variety of easy-to-use features at a budget price.
The Pentax Optio E60 also is a fine travel companion compatible with easy-to-find AA batteries, and featuring World Time and Date Imprint functions, and an Image Recovery function to retrieve accidentally-erased, once-in-a-lifetime pics!



















The Optio E60 features a 10.1-megapixel CCD sensor for maximum resolution in an easy to use camera. With a high-performance Pentax lens and a new image processing engine with improved performance, the Optio E60 delivers high-quality images even when enlarged.

The Pentax Optio E60 features a 3x optical zoom lens with a wide angle of view equivalent to 32mm to 96mm in 35mm format.

The Optio E60 offers an Intelligent Zoom function that extends the zoom range without compromising the optical zoom's image quality for high-magnification zoom photography at a maximum of approx.

Powered by AA batteries that are easily available world wide, the Optio E60 features an energy-saving design that captures up to 200 shots with AA alkaline batteries, and up to 620 shots with AA lithium batteries.

The Optio E60 is equipped with the Auto Picture mode that determines the conditions of the scene and automatically selects an optimal shooting mode for the camera.

The camera also features several new scene modes including: Standard, Landscape, Portrait, Night Scene, Night Scene Portrait, Flower, and Sport modes.

The Face Recognition AF & AE function automatically detects up to 10 faces in the picture frame and automatically sets the optimal exposure and focus.

The Optio E60 extends face detection technology with such features as Half-length Portrait mode that trims the area around the detected person and automatically captures a half-length portrait of the person based on the detected information, and blink detection that tells the user if anyone in the image has closed eyes during the exposure.

Digital Shake Reduction reduces camera shake and blurring of the subject when photographing still images. The sensitivity is adjusted automatically (to as high as the high sensitivity of ISO 6400) to match the brightness of subjects. This feature allows photography with fast shutter speeds and images with less blur. The Optio E60 now also features Movie SR to steady your video captures.

The Optio E60 Green mode automates camera setup so even digital beginners may enjoy effortless photography. With a single press, the Green mode automatically sets exposure, sensitivity, and other parameters according to the shooting conditions. This function also is useful when other users take your picture or camera settings are lost.
Total Pixels - 10M, 7M, 5M, 3M, 2.1M(16:9), 1024, 640

Effective Pixels - 10.1 megapixels

Still - 10M, 7M, 5M, 3M, 2.1M(16:9), 1024, 640

Movie - 640, 320

Sensitivity - Auto,Fixed (ISO 100 - 6400)

Lens Focal Length - 5.7 - 17.1mm (approx. 32 - 96mm in 35mm format)

Digital Zoom - approx. 5.7X

Focusing System Functions - 3-point AF, Spot AF, Auto tracking AF

Focus Range - (automatic) Standard: 0.5m to infinity (whole zoom area. Macro:0.1m to 0.6m (at wide setting) Infinity-landscape mode: Pan Focus: available

Shutter Speed - 1/2000- 1/4 sec. 4 sec at most (Night scene mode setting)

Exposure Modes - Auto Picture, Program, Night Scene, Night Scene Portrait, Half-length Portrait, Movie, Landscape, Flower, Portrait, Surf & Snow, Sport, Digital SR, Kids, Pet, Food, Digital Panorama, Frame Composite, Voice Recording, Green

Flash Type - Built-in

Modes - Flash-on and Flash-off modes. "Red-eye" reduction function employs a pre-discharge.

Effective Range - Wide:approx. 0.1 - 6.0m (ISO Auto)

Exposure Parameters Modes - One shot, Self-timer, Continuous Shooting, 16-frame Shooting

White Balance - Auto

Digital Filter - Slideshow, Resize, Cropping, Image/Sound Copy, Image Rotation, Digital Filter, Brightness Filter, Frame Composite, Red eye compensation, Protect, DPOF, Image Recovery, Face close-up playback

Storage - Internal Built-in Memory (approx. 6.3MB), SD/SDHC Memory Card

Power Source - 2 AA batteries (Alkaline, Lithium, Nickel and Rechargeable Ni-MH),

Optional AC adapter kit is also available

Performance Still: Approx 200 images

Dimensions - Height 59mm, Width 98mm, Depth 25mm

What's in the Box

Model No: OPTIO E60 PINK
Weight: 3 Lbs.
Shipping Dimensions: 10x8x6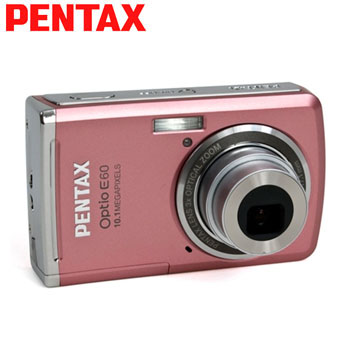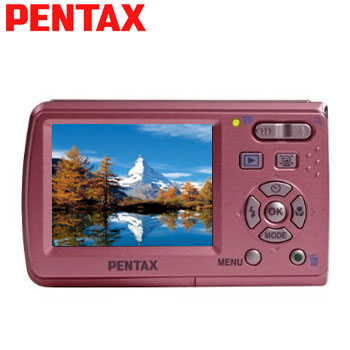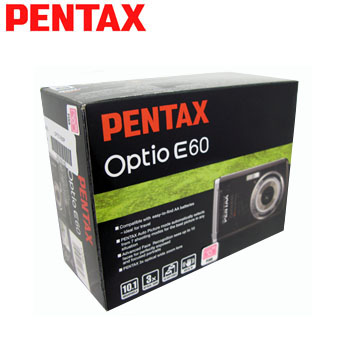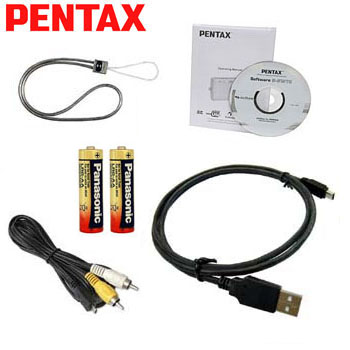 RETURN POLICY / WARRANTY INFORMATION
Our Company offers only the finest products available and make every effort to meet your high standards for quality products, accurate descriptions, reliable shipping and exceptional customer service. Should you experience a problem, question or concern, please contact us immediately.

Guarantee is only on manufacturer's defective merchandise.

All merchandise is guaranteed for 7 Days of receipt.

Some products come with full manufacturer's warranty and will be identify in the proper listings.

We agree at our option, to repair or replace any defective merchandise during the 7 days guaramtee period.

Defective products returns must be in the same like-new original packaging condition as received, including: boxes, poly-plastic bags, wrappers, labels, accessories, instructions and owners manual.

Defective products returns that do not comply the same like-new original packaging condition as received, including: boxes, poly-plastic bags, wrappers, labels, accessories, instructions and owners manual; will be replaced or repaired accordingly as the return item condition was received at our location.

Returned item should include a brief explanation of the problem & the appropriate & exact "Return Shipping Address".

Please allow 1-3 weeks for processing.

Returns sent COD will not be accepted.

Returns must be sent Pre-Paid Postage.

***IMPORTANT: All returns must obtain a RMA (Return Merchandise Authorization) number prior to returning, and must go through our online Return Authorization process.

Please e-mail us to obtain an RMA (Return Merchandise Authorization) number, and will issue it accordingly with return instructions.

Any returned merchandise-package that does not have an RMA (Return Merchandise Authorization) number will not be ac

andise Authorization) numbers are valid for 7 Days.
INVENTORY IN-STOCK NOTICE / DISCLAIMER
We continuously monitor our Suppliers and Distributors for available Inventory Product Quantities. At the time of this Listing, this Product was in Stock. However, occasionally and from time to time, an item might go out of Stock. In that case, we'll "PROMPTLY REFUND YOUR FULL PAYMENT". If you decide and choose to wait for the item to Re-Stock, you will be informed and keep posted, as to when this product is expected and scheduled to arrive.



FREESHIPPING

Terms & Conditions

We only ship to the Continental-Contiguous U.S.A.

FedEx & UPS Do Not Deliver to P.O. Boxes, APO's or FBO's.

Ship & or

Ground Within 3 Non-Holiday Business Days, with

Lost/Damage Insurance Protection & Tracking Information/Confirmation,

and or if Applicable Standard Flat Rate Mail with & Tracking/Delivery Comfirmation.

Only Ship to

Addresses.

is the Method of Payment...& Accepts all Major Credit Cards...

*9.75 % Sales Tax will be Added to California Residents.

Participating in This Buy it Now/Auction Constitute Acceptance of our Policies, Terms & Conditions.

No Guarrantee or Warranty Expressed or Implied.

All Sales are Final.

FREE SHIPPING

Shipping Business Days from ZIP/Postal Code 33610 Tampa, Florida.

This Map illustrates Service Schedules in Business Days as of March 09, 2010 for UPS Ground Shipments

EnterPriceWorld EnterPriceWorld EnterPriceWorld EnterPriceWorld EnterPriceWorld EnterPriceWorld
















Square Trade Warranty Available.
Years of Coverage for Pennies a Day !
Rated 5-Stars by Customers. Over 1 MIllion Sold.
______________________________________________________________________________________________
Holiday 2010 Shipping Deadlines
Sellers -- take note of the following Domestic Ship-by Dates for UPS® and USPS®

Dec. 17-23--UPS Ground (varies by destination)
Dec. 21--UPS 3 Day Select®
Dec. 22--UPS 2nd Day Air®
Dec. 23--UPS Next Day Air®


Dec. 15--Parcel Post
Dec. 20--First Class Mail
Dec. 21--Priority Mail
Dec. 22--Express Mail


__________________________________________________________________________________________________
Copyright © 2007-2010 EnterPriceWorld All Rights Reserved.
Items must be returned within 7 days .
Refund will be given as Money back.
Refund policy details:
**Only Manufacturer's Defective Merchandise will be Accepted Within 7 Days of Receipt. *Defective Products Returns Must be in the Same Like-New Original Packaging Condition as Received, Including: Boxes, Poly-Plastic Bags, Wrappers, Labels, Accessories, Instructions and Owners Manual; and will be Replaced or Repaired Accordingly. *Defective Products Returns that Do Not Comply with Same Like-New Original Packaging Condition as Received, Including: Boxes, Poly-Plastic Bags, Wrappers, Labels, Ac
Destination: United States

STANDARD
Standard
$0.00
$0.00
Type
Instructions to Buyer
Paypal
null