~ Please Read Before You Bid~
Size is 14" x 9.5" for 15.4" or custom size, see chart. Only specify the size you need if different than the 15.4" screen.
All Skins are 100% Digital High Performance Vinyl Prints.
Laminated, its waterproof, it will not Fade, scratch or tear.

Easy To Install & Remove, easy clean up.

You can Trim if Necessary, or request a smaller size so the image is not affected.

You Can Add a Name/Text for

FREE

You Can Use Your Own ART/PICTURES for the same price.

You Can Choose Any Other Design From Our Library. Or Request a Design.

Please Type Custom Instructions during Check-out process on message to family-decals or USE CONTACT SELLER If you miss the Message Box.

Do Not Send instructions Before You Pay.

We Use Matching Fonts/Colors. You can request a Font, if we have it we will use it.

PLEASE!! If You are not Sure of your Laptop Screen Size You Must Take the Time To Measure it. It will save You from having to return it, and if its customized with a name I can not exchange.
CAN YOU EXCHANGE? If You buy the wrong the Size You can exchange it, but You must Pay for shipping Both Ways. It takes 2 minutes to measure Your laptop and can save you Time and $$$.. Unfortunately it can also cost me an undeserved feedback. I state the Size of the skin and give you the chance the request your own size too, so Size Should NOT Be an Issue. If I make a mistake then I will exchange at no cost to you.
When Requesting a custom size send me both width x length. For example. If you request a 15", I'll understand you need a 13" x 9.75" size. Do not ask for a 15" if your laptop needs a 15"x10"
Use This Chart as a Guide for sizes. You Can request any other custom size not to exceed the sizes in RED. Sizes in Black cost either more or less and are available in my lisitngs. Make sure you buy the correct listing for the size you need.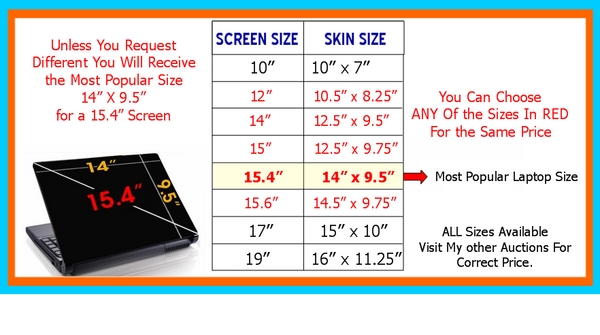 SHIPPING IS FREE IN THE USA!! I do not ship international.





See my other listings for more great items!