DRIVING ME CRAZY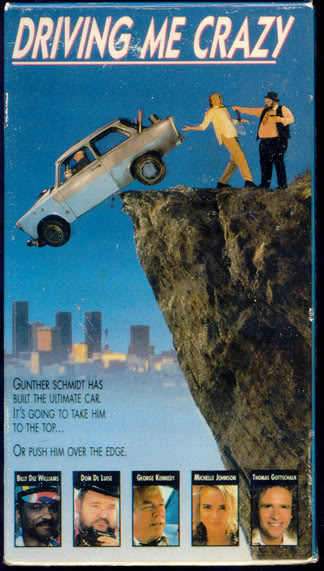 VHS VIDEO
---
PLOT - An eccentric, East German inventor/defector travels to Los Angeles to sell a prototype revolutionary new car that runs on vegetables and produces no pollution, but he runs into one madcap after another to find a buyer and financier for mass production.
VHS VIDEO ONLY! - Never Released on DVD! Rare and Out of Print!
---
Rated PG13 - 88 Minutes - 1991
Billy Dee Williams - Don Del Louis - George Kennedy

---
PLEASE NOTE!!! - This is a NTSC format North American (USA & Canada) VHS Video Tape!! If you in the UK, Australia, Europe, Asia or anywhere outside of North America, PLEASE make sure your Video Player will play this format before you bid!
---
Welcome to DoctorRobb auctions! I'm located in Orlando Florida in the USA! Bids from my UK friends and all over the world are welcome!
---
CONDITION - USED VHS VIDEO - This is a Used VHS, plays great. Original tape with Original Box!
Note - I have hundreds of videos and don't have time to watch every second of every video, but I test each one before listing it.
---
SHIPPING / POSTAGE
USA Media Mail - $3.00
USA Priority Postage - $5.00
Canada / Mexico - $5.00
UK, Europe and all International - $10.00
---
---
REFUND - If you aren't happy for any reason with your item please get in touch with me and we will work it out and get you a refund! Im easy to work with.

Any questions please send me a message!