ENORMOUS CHANGES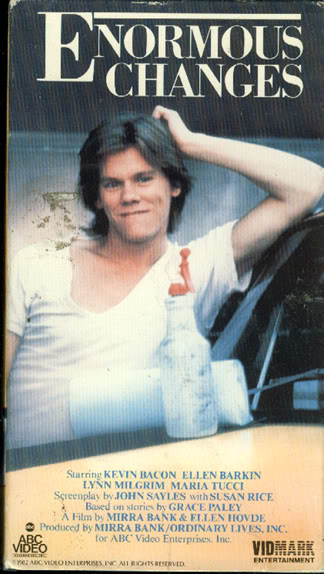 VHS VIDEO
---
PLOT - This film is made up of three segments that share no plot but have a general thematic relationship. In the first segment, Virginia and her three children are left by her shiftless husband and she is courted by an old beau who is now married. In the second, a divorced woman reacts to some unexpected revelations from her aged father. In the third, childless, middle-aged social worker is swept into an affair with cab driver Dennis, and finds herself pregnant.
VHS VIDEO ONLY! - Never Released on DVD! Rare and Out of Print!
---
Not Rated - 103 Minutes - 1985
Kevin Bacon - Ellen Bakkin - Lynn Milgrim

---
PLEASE NOTE!!! - This is a NTSC format North American (USA & Canada) VHS Video Tape!! If you in the UK, Australia, Europe, Asia or anywhere outside of North America, PLEASE make sure your Video Player will play this format before you bid!
---
Welcome to DoctorRobb auctions! I'm located in Orlando Florida in the USA! Bids from my UK friends and all over the world are welcome!
---
CONDITION - USED VHS VIDEO - This is a Used VHS, plays great. Original tape with Original Box!
Note - I have hundreds of videos and don't have time to watch every second of every video, but I test each one before listing it.
---
SHIPPING / POSTAGE
USA Media Mail - $3.00
USA Priority Postage - $5.00
Canada / Mexico - $5.00
UK, Europe and all International - $10.00
---
---
REFUND - If you aren't happy for any reason with your item please get in touch with me and we will work it out and get you a refund! Im easy to work with.

Any questions please send me a message!