THE MONSTER AND THE GIRL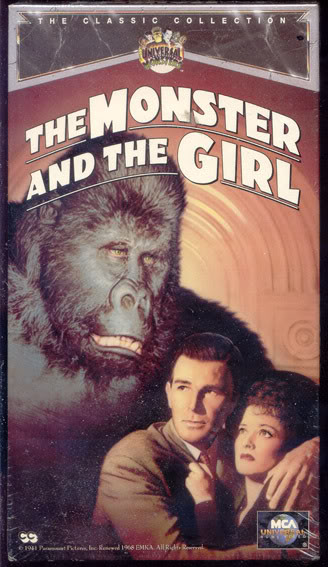 VHS VIDEO
---
PLOT - Scot Webster tries to save his sister Susan from the clutches of gangster W.S. Bruhl. When Scot comes to Bruhl's rented room, one of the gangster's aides falls into his hands, killed by a gunman. The murderer tosses his gun to Scot and disappears. Since all the evidence points at him, Scot is arrested, tried and sentenced to death. A mad scientist uses his brain to transplant it into a gorilla. After the operation Scot wakes up in the body of a gorilla, eager to get his revenge...
VHS VIDEO ONLY! - Never Released on DVD! Rare and Out of Print!
---
B&W - 65 Minutes - 1941
Ellen Drew - Robert Paige - Paul Lukas
---
PLEASE NOTE!!! - This is a NTSC format North American (USA & Canada) VHS Video Tape!! If you in the UK, Australia, Europe, Asia or anywhere outside of North America, PLEASE make sure your Video Player will play this format before you bid!
---
Welcome to DoctorRobb auctions! I'm located in Orlando Florida in the USA! Bids from my UK friends and all over the world are welcome!
---
CONDITION - NEW VHS VIDEO - Sealed and Mint
---
SHIPPING / POSTAGE
USA Media Mail - $3.00
USA Priority Postage - $5.00
Canada / Mexico - $5.00
UK, Europe and all International - $10.00
---
---
REFUND - If you aren't happy for any reason with your item please get in touch with me and we will work it out and get you a refund! Im easy to work with.

Any questions please send me a message!