SCREAMERS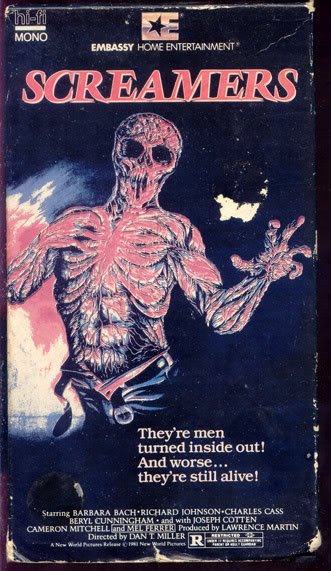 VHS VIDEO
---
PLOT - After their prison ship sinks in the Caribbean, a group of prisoners and a doctor wash ashore on a seemingly deserted island. They soon discover a strange couple, who invite them to stay at their house. While the prisoners try to plan an escape, the doctor does some investigating, and soon finds out just what the pair are really doing, and why the prisoners keep disappearing mysteriously.
Originaly released in the theater as "Island of The Fishmen"
VHS VIDEO ONLY! - Never Released on DVD! Rare and Out of Print!
---
Rated R - 83 Minutes - 1979
Richard Johnson - Joseph Cotton - Barbara Bach
---
PLEASE NOTE!!! - This is a NTSC format North American (USA & Canada) VHS Video Tape!! If you in the UK, Australia, Europe, Asia or anywhere outside of North America, PLEASE make sure your Video Player will play this format before you bid!
---
Welcome to DoctorRobb auctions! I'm located in Orlando Florida in the USA! Bids from my UK friends and all over the world are welcome!
---
CONDITION - USED VHS VIDEO - This is a Used VHS, plays great. Original tape with Original Box!
Note - I have hundreds of videos and don't have time to watch every second of every video, but I test each one before listing it.
---
SHIPPING / POSTAGE
USA Media Mail - $3.00
USA Priority Postage - $5.00
Canada / Mexico - $5.00
UK, Europe and all International - $10.00
---
---
REFUND - If you aren't happy for any reason with your item please get in touch with me and we will work it out and get you a refund! Im easy to work with.

Any questions please send me a message!