CLASSIC WRESTLING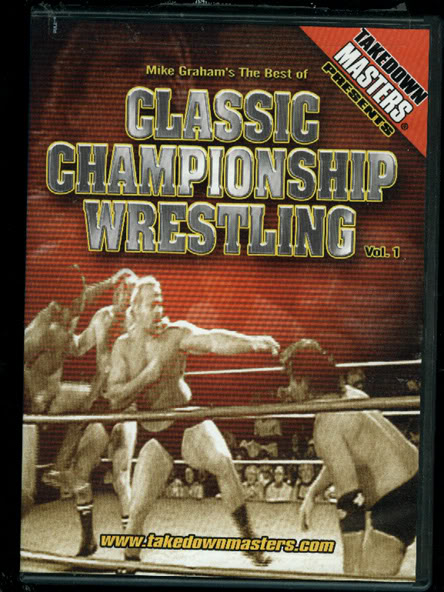 DVD
---
Mike Graham's Best Of Classic Championship Wrestling Vol.1
---
NWA FLORIDA TAG TEAM TITLE
The Sheephearders vs The Cuban Connection
"The American Dream" Dusty Rhodes Music Video
Terry Funk vs Mike Rotundo
Lex Luger, Ron Simmons & Kendall Windham vs Bad News Allen, Bruiser Brody & The Cuban Assassin
NWA SOUTHERN TITLE
Lex Luger vs Bad News Allen
The Black Ninja vs Prince Iaukea
NWA WORLD TITLE MATCH
Harley Race vs Dusty Rhodes
BOXING MATCH
Kendall Windham vs Kendo Nagasaki
NWA FLORIDA TITLE MATCH
Barry Windham vs Ron Bass
AWA WORLD TAG TEAM TITLE
The Road Warriors vs Harley Race & Stan Hansen
---
PLEASE NOTE!!! - This is a REGION 1 (R1) North American format (USA & Canada) DVD! If you are in the UK, Australia, Asia, Europe or anywhere outside of North America PLEASE make sure your DVD player will play this format!
---
Welcome to DoctorRobb auctions! I'm located in Orlando Florida in the USA! Bids from my UK friends and all over the world are welcome!
---
CONDITION - USED DVD - Like new condition! Original DVD with Original Box!
---
SHIPPING / POSTAGE
USA Media Mail - $3.00
USA Priority Postage - $5.00
Canada / Mexico - $4.00
UK, Europe, Asia and all International - $7.50
---
---
REFUND - I am friendly and easy to work with, if you are unhappy for any reason with my items, please contact me and I will work with you and get you a refund.
Any questions please send me a message!