JOE DIFFIE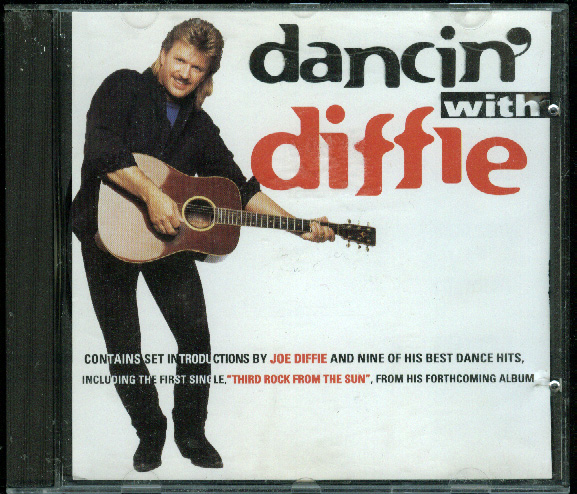 DANCIN' WITH DIFFIE

---
Dated 1994. Joe Diffie Promotional Dance CD. Includes 9 of his Dance Songs and Call Out Club ID Announcements such as "Let's Go Back To Some Line Dances" and "Don't Forget About Your Bartenders and Waitresses..."

This Promotional radio CD that was never sold in stores or made for the gerenal public, it was only sent out to radio stations, clubs, music industry people and DJ's for radio airplay and to promote the new album. Very rare.
SET 1
Track 1 - Joe Diffie Introduction
Track 2 - Honky Tonk Attitude (3:47)
Third Rock From The Sun (2:47)
Just a Regular Joe (2:38)
SET 2
Track 3 - Joe Diffie Introduction
Track 4 - John Deere Green (4:31)
Next Thing Smokin' (3:27)
SET 3
Track 5 - Joe Diffie Introduction
Track 6 - Prop Me Up Beside The Jukeboz If I Die (3:46)
If The Devil Danced (In Empty Pockets) (2:45)
SET 4
Track 7 - Joe Diffie Introduction
Track 8 - New day To Light Up an Old Flame (2:42)
Cold Budweiser And A Sweet Tater (3:03)
Tracks 9 - 14 : Joe Diffie Generic Club Announcements
---
Welcome to DoctorRobb auctions! I'm located in Orlando Florida in the USA! Bids from my UK friends and all over the world are welcome!
---
CONDITION - Used CD, awesome condition, plays great.
---
SHIPPING / POSTAGE
USA Media Mail - $2.00
Canada / Mexico - $3.00
UK, Europe and all International - $5.00
---
---
REFUND - I am friendly and easy to work with, if you are unhappy for any reason with my items, please contact me and I will work with you and get you a refund.
Any questions please send me a message!