3 Games to Glory III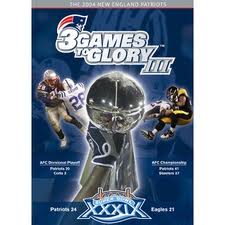 Previously Viewed DVD.

SOLD OUT

Category: Sports
Starring: Tom Brady, Bill Belichick

Three Games to Glory III will have every play from Super Bowl XXXIX, EVERY play from the Patriots two amazing playoff wins against the Colts and Steelers. Bonus content will include more behind the scenes footage from the entire playoff run and exclusive interviews than ever before along with "Bill Belichick Film Sessions" and the "Players' Cut" of Super Bowl XXXIX.

$9.99
Shipping Carriers
Destination: United States

Carrier
Method
Shipping Cost
Per additional Item
USPS
Priority Mail®
$5.35
Payment Method
Type
Instructions to Buyer
Paypal