MOTION ACTIVATED SECURITY CAMERA


Condition: New
Price:&nbsp

$79.95
---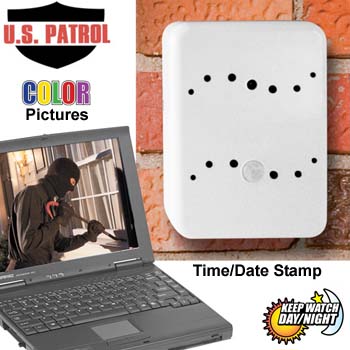 Description:
Hey crooks, thugs and vandals - smile!
You've been captured by this Photo Patrol security camera!
Photo Patrol automatically captures sharp color photos so you have cold, hard evidence that will help ensure that violators get what's coming to them!
This handy camera helps safeguard your home and property.
Just position it near an entryway, driveway, parking lot, living room, business etc. and whenever the infrared sensor detects motion, it instantly snaps a photo and stamps it with the day and date!
Features built-in 16MB memory that stores up to 200 pictures or use the SD card slot for unlimited storage.
Discreet and silent design makes it look like an air freshener.
Features:

Keep your home and property safe and secure
Motion activated motion sensor
Snaps a photo when motion is detected
Silent and Undetectable
Looks like an air freshener (but it's not)
Prints day and date on photos
Built-in 16MB memory stores 200 photos
Expandable to 2GB Secure Digital(SD)Card memory
1GB SD Card stores up to 13,000 Photos
2GB SD Card stores up to 26,000 Photos
Perfect for Businesses - Entryways - Porches- Bedrooms - Hallways - Garages - Family Rooms and much more.
Can be used outdoors in well lit areas
Requires 4 AA batteries (not included)
Comes with mounting screws
Comes with USB cable to dowload photos
Approx. 5-1/4" x 4-1/4" x 1-1/2"
---
Return Policy:
I do not accept returns
Shipping:

Destination: United States

USPS
First-Class Mail®
$12.95
$4.95

Destination: Worldwide

USPS
First-Class Mail Intl®
$16.95
$4.95

Handling:
$0.00(Domestic)
$0.00(International)
Insurance:
Not Offered (Domestic)