BLAZING SWORD (1966) - REMASTERED
Price:&nbsp
$12.99
---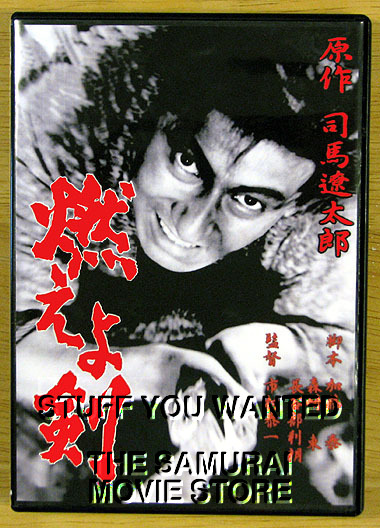 Description:
Moeyo Ken - dramatizes the life and times of Hijikata Toshizo along with Okita Shoji and Kondo Isami, especially their deeds within the pro-shogunate Shinsengumi group in Kyoto.

Hijikata was a central figure of Shinsengumi and is traditionally portrayed as a rather demonic, rampaging psychopath with a penchant to kill fellow Shinsengumi members.

But "Moeyo-ken" attempts to give Hijikata a human dimension that makes him understood, but still not an admirable man. He was after all a peasant who had risen to the status of a Hatamoto Samurai.

The story shows him using his sword in a legs and knee cutting style, which would cripple anyone that he failed to kill outright, if the sword reflects the soul, then Hijikata's swordsmanship, like his spirit, has cruelty to it.

The film climaxes with the Battle at Ikedaya Inn where the Shinsengumi saved the Emperor from being abducted and the city of Kyoto from being reduced to flames.
Shot elegantly in black & white with realistic depictions of swordsmanship that ranks with the best!


STARRING: KURIZUKA ASAHI, WAZAKI SHUNYA, UCHIDA RYOHEI, ISHIKURA HIDEHIK
1966 - JAPANESE with OPTIONAL ENGLISH SUBTITLES - COLOR - 16:9 ANAMORPHIC WIDESCREEN - 90 MINUTES
---
Return Policy:
Items must be returned within 14 days .
Refund will be given as Exchange.
Refund policy details:
All DVD's are guaranteed against defects.
Shipping:

Destination: United States

USPS
First-Class Mail®
$2.00
$2.00

Insurance:
Not Offered (Domestic)