AFFAIR IN THE SNOW (1968) - REMASTERED
Price:&nbsp
$12.99
---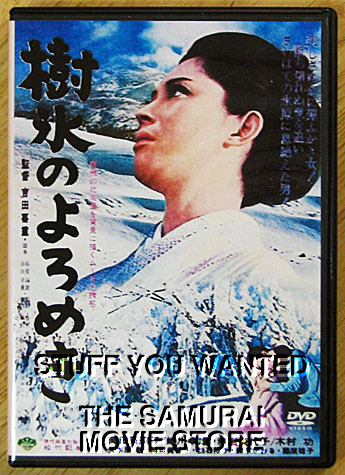 Description:
Juhyo no yoromeki - one of the greatest analyses of sexual need in world film, stunningly acted, and with photography that ranks among the greatest of Yoshida's career.
Yuriko works in an upper scale hairdressing salon in Sapporo. She's in a volatile relationship with Akira who can only express his love for her through rough and ready sex. Yuriko decides to break up with him, she believes she's pregnant and doesn't see any future with Akira, whose moods fluctuate violently. She seeks out the advice of an old flame, Kazuo, who she hasn't seen for several years. He, though married to a plain girl, still loves her, but he suffers from impotency.
Meanwhile, Akira, convinced that there is another man and consumed by jealousy decides to kill Yuriko by Shikotsuko lake. Things come to a head in the remote hills in the middle of a blizzard, when Yuriko is faced with the attentions of both men.
Director: Yoshishige Yoshida
Writers: Toshiro Ishido, Yoshishige Yoshida
Stars: Mariko Okada, Isao Kimura, Yukio Ninagawa
1968 - JAPANESE with OPTIONAL ENGLISH SUBTITLES - B&W - 16:9 ANAMORPHIC WIDESCREEN - 97 MINUTES
---
Return Policy:
Items must be returned within 14 days .
Refund will be given as Exchange.
Refund policy details:
All DVD's are guaranteed against defects.
Shipping:

Destination: United States

USPS
First-Class Mail®
$2.00
$2.00

Insurance:
Not Offered (Domestic)