BRONZE MAGICIAN (1963) - REMASTERED - Ichikawa Raizo
Price:&nbsp
$15.00
---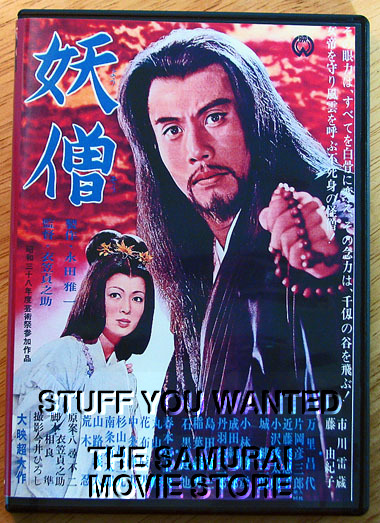 Description:
Yoso - The Japanese Rasputin? A lost classic, set in the Nara Era (710-794).
The film stars Ichikawa Raizo as the "esoteric priest" of the title, involved in a taboo romance with the bedridden Empress. Based on an old Japanese historical tale. It's an example of the most artful categories of samurai films, zankoku jidai-geki or "cruel historical." Raizo appears in other examples of the sub-genre, notably Betrayal (1966), and The Third Shadow (1963).
Japan of the Nara Era had a sovereign female Emperor or Mikado, who fell under the sway of a Buddhist priest named Dokyo. His influence over her proved so powerful that the Empress gave him titles which implied the Imperial line might actually pass to him should the Empress die. This crisis engendered by Dokyu led to the banning of women ever again becoming Mikado, and although Dokyo clearly uses the affections of the Empress for personal gain and power, his intense devotion to her is nevertheless no falsehood.
The film takes this historical reality and makes of it a believable though tough and rather odd love story, the entire film seems to take place in a dream of beauty
​ ​
and​
terror, misery
​and​
ecstasy, said to be among the best of the best of Ichikawa
​ ​
Raizo​
.
Screenplay by Fuji Yahiro
​(​
who also wrote Kenji Mizoguchi's Sansho the Bailiff
​)​
Directed by Teinosuke Kinugasa (who gave us the recognized classic Gate of Hell - aka Jigokumon, 1952)
Stars: Raizo Ichikawa, Miyako Endo, Tomisaburo Wakayama (credited as Kenzaburo Jo)
1963 - JAPANESE with OPTIONAL ENGLISH SUBTITLES - B&W - 16:9 ANAMORPHIC WIDESCREEN - 98 MINUTES
​Watch the trailer here: ​
BRONZE MAGICIAN
​ (No English subtitles on trailer)​
---
Return Policy:
Items must be returned within 14 days .
Refund will be given as Exchange.
Refund policy details:
All DVD's are guaranteed against defects.
Shipping:

Destination: United States

USPS
First-Class Mail®
$2.00
$2.00

Insurance:
Not Offered (Domestic)