KILLING IN YOSHIWARA (1960) - REMASTERED
Price:&nbsp
$12.99
---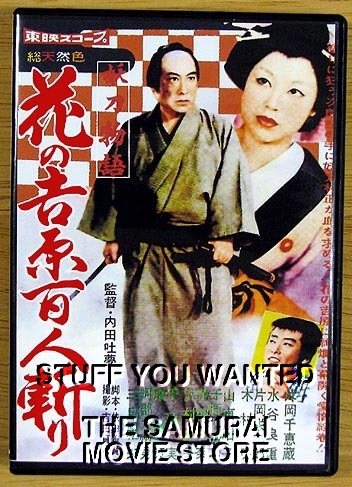 Description:
Yoto monogatari: Hana no Yoshiwara hyaku-nin giri - A glorious melodrama written by Mizoguchi collaborator Yoshikata Yoda.

A wealthy silk merchant, who is much loved for his warmth and kindness, cannot find a wife because of a disfiguring birthmark on his face. Even the courtesans in refuse to entertain him, until an indentured peasant prostitute, takes the unsavory assignment and treats him with brash tenderness.

"The scar is not on your heart," she scoffs, and the grateful businessman falls madly in love with her, and sets out to purchase her freedom. When faced with her betrayal and his own financial ruin, he takes his revenge, turning the lavish ceremony to mark her ascension to courtesan into a slashing spectacle spattered with cherry blossoms and blood.

The violent climax is, once again, directed with breathtaking assurance, a real jawdropper.

The performances are all perfectly measured and the cinematography, score and production design are flawless.
DIRECTED BY: UCHIDA TOMU

STARRING: KATAOKA CHIEZO, CHIAKI MINORU, SANTO AKIKO, KIMURA ISAO

1960 - JAPANESE with OPTIONAL ENGLISH SUBTITLES - COLOR - 16:9 ANAMORPHIC WIDESCREEN - 110 MINUTES
---
Return Policy:
Items must be returned within 14 days .
Refund will be given as Exchange.
Refund policy details:
All DVD's are guaranteed against defects.
Shipping:

Destination: United States

USPS
First-Class Mail®
$2.00
$2.00

Insurance:
Not Offered (Domestic)