HANZO THE RAZOR 3 - Who's Got the Gold? - REMASTERED
Price:&nbsp
$12.99
---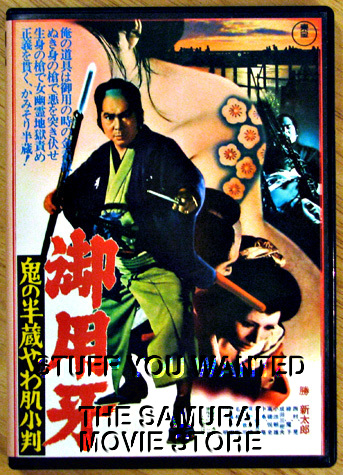 Description:
Goyokiba: Oni no Hanzo yawahada koban - The Renegade Samurai cop and incorruptible protector of the common man, returns in his third and final perverse mystery.


Renowned for his brilliant investigative skills, especially when it comes to interrogating female suspects. --- When HANZO stumbles upon a fake ghost and real gold near the Shogunate treasury, catching the immediate culprits is only the first step along a twisted trail of clues, corruption and depravity.


Hanzo must discover who is behind a plot that may threaten the stability of the Shogunate and get the conspirators to spill their guts - because if he fails, the guts that will be spilled are Hanzo's!


REMASTERED FOR SUPERIOR PICTURE QUALITY


Starring: KATSU SHINTARO


1973 - JAPANESE with OPTIONAL ENGLISH SUBTITLES - 16:9 ANAMORPHIC WIDESCREEN - COLOR - 90 MINUTES
---
Return Policy:
Items must be returned within 14 days .
Refund will be given as Exchange.
Refund policy details:
All DVD's are guaranteed against defects.
Shipping:

Destination: United States

USPS
First-Class Mail®
$2.00
$2.00

Insurance:
Not Offered (Domestic)