KUNISADA CHUJI (1958)
Price:&nbsp
$11.00
---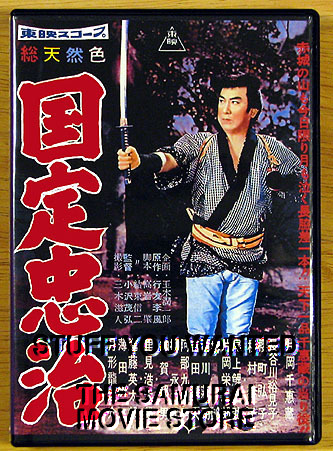 Description:
Kunisada Chuji - As the power of the Tokugawa shogunate begins to wane in the 19th century, gambling becomes widespread in rural areas, leading to running battles between authorities and heavily armed gangs.
One legendary figure was yakuza gambler Kunisada Chuji, a real-life figure of the 19th-century Tokugawa era and a popular subject of storytellers -- who is nevertheless a man of honor.

Legend tells of Chuji wielding his sword on behalf of farmers and peasants who were being treated cruelly by feudal lords; he became famous for the line, "I would like to die so that people can mourn my death."
No less then 12 films have been produced about this Japanese Robin Hood, the first in 1914.
This film is one of great unpresuming fun, & conveys the basic Chuji legend in pleasing fullness.
STARRING: KATAOKA CHIEZO, SATOMI KOTARO, TSUKIGATA RYUNOSUKE
1958 - JAPANESE with ENGLISH SUBTITLES - COLOR - WIDESCREEN - 95 MINUTES

If you like this, you might also be interested in... Road of Chivalry

---
Return Policy:
Items must be returned within 14 days .
Refund will be given as Exchange.
Refund policy details:
All DVD's are guaranteed against defects.
Shipping:

Destination: United States

USPS
First-Class Mail®
$2.00
$2.00

Insurance:
Not Offered (Domestic)