IP MAN: The Legend is Born (2010)
Price:&nbsp
$12.99
---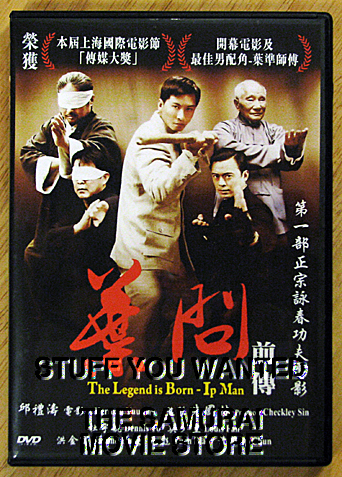 Description:
Yip Man chinchyun - This film is a prequel to the previous two Ip Man films (which starred Donnie Yen as the main character) and chronicles Ip Man in his teens and early 20's, which focuses mostly on his learning of Wing Chun. Unlike the first two movies, which arguably took some creative liberties with Ip Man's story, this prequel tries to be a more accurate biography of the life of the Grandmaster.
A great martial arts action film, with plenty of rapid fire, hard hitting action, and of course more of Ip Man's character being portrayed on the big screen. You'll feel compelled to applaud when Ip Man comes to the rescue.
Credibility for the film is even enhanced with the presence of Ip Man's real son Ip Chun as the elderly but sprightly Leung Bik who teaches Ip Man (played by Dennis To) a thing or two about his brand of Wing Chun.
STARRING: DENNIS TO (the current Hong Kong martial arts champion), SAMMO HUNG, YUEN BIAO
2010 - CHINESE with OPTIONAL ENGLISH SUBTITLES - COLOR - 16:9 ANAMORPHIC WIDESCREEN - 5.1 SURROUND SOUND - 100 MINUTES
---
Return Policy:
Items must be returned within 14 days .
Refund will be given as Exchange.
Refund policy details:
All DVD's are guaranteed against defects.
Shipping:

Destination: United States

USPS
First-Class Mail®
$2.00
$2.00

Insurance:
Not Offered (Domestic)