MASKED NINJA RED SHADOW - REMASTERED
Price:&nbsp
$12.99
---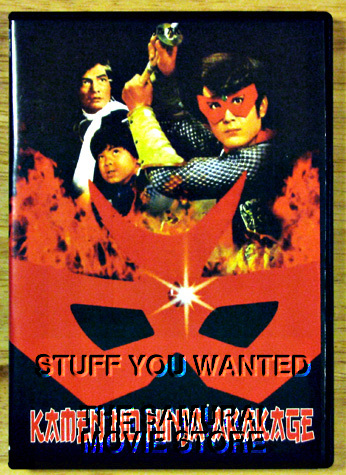 Description:
Kamen no Ninja Akakage - This was Toei's first color superhero TV show and can be compared to the popular Batman TV series, which was still airing in America at the time.

Akakage (a.k.a. Red Shadow), a fictional Japanese superhero (featured in early manga, tokusatsu and anime TV/movies) is a Ninja who wears a red & black costume with a stylized red mask. His adventures take place in 16th Century Feudal Japan.

He and his Ninja sidekicks Blue Shadow and White Shadow fight evil warlords, wizards and giant monsters using a combination of gadgetry & super-ninja-abilties.
MOVIE 1: NINJASCOPE: THE MAGIC WORLD OF NINJA (1966 - a.k.a. Akakage Chapter 1, episodes 1-13)

A strange cult called the Golden Eye God Cult, led by the myserious & ominous Ginyosei, has appeared and spread its evil influence across the country. It is up to Akakage & Aokage to find out what the evil religion is up to.

However, the Golden Eye God Cult is determined to stop them. To this end, they send their powerful ninja warriors one by one, each empowered with superhuman abilties. Akakage & Aokage are soon joined by their friend Shirokage and their adventures are just starting.

MOVIE 2: WATARI THE CONQUEROR (1967 - a.k.a. Akakage Chapter 2, episodes 14-26)

1571 Japan. Portuguese merchant ships have brought 3 mysterious glass bells which are said to possess incredible magical powers. To this end, the powerful Manji Ninja Clan is hellbent to acquire them & their secrets.

The powerful warlord Oda Nobunaga has enlisted the aid of Akakage and his friends to protect the bells at any cost. Akakage & his group decide to find their secrets before Genyosai, the leader of the Manji Ninja Clan does.

MOVIE 3: WATARI AND THE FANTASTICKS (1968 - a.k.a. Akakage Chapter 3, episode 27-39)

The evil warlord Usato Danjo has acquired in an unholy pact the services of the beastly Negoro Ninja group, led by their dark leader Kurayami Kido, to assassinate Oda Nobunaga.

Akakage & his friends must protect Nobunaga from the 13 Negoro Ninjas & their daikuji for not only is the leader's life at stake, but it could unleash powerful evil forces into the world!
STARRING: Yuzaburo Sakaguchi, Yoshinobu Kaneko, Fuyukichi Maki
ENGLISH DUBBED - FULLSCREEN - COLOR - 270 MINUTES

---
Return Policy:
Items must be returned within 14 days .
Refund will be given as Exchange.
Refund policy details:
All DVD's are guaranteed against defects.
Shipping:

Destination: United States

USPS
First-Class Mail®
$2.00
$2.00

Insurance:
Not Offered (Domestic)