DETECTIVE HIBARI (1956) - Mysteries of Edo - REMASTERED
Price:&nbsp
$12.99
---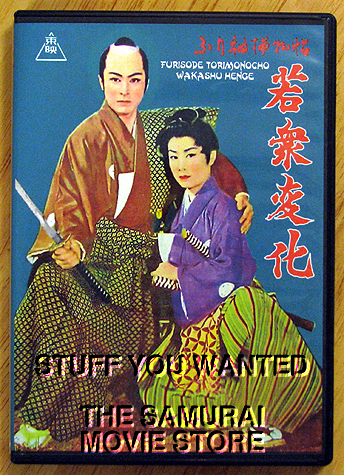 Description:
Furisode Torimonocho Wakashu Henge -
A princess finds life behind the protection of her brother and the high walls of the mansion to be quite dull, so she takes on another identity and lives in a small house in Edo pretending to be a singer but all the while she is actually a Shogunate Detctive.
Mystery abounds in old Edo as part-time detective Oshichi is asked to help investigate the disappearance of more than a dozen lovely young women.

As fear grips the entire city of Edo the hunt goes on for a mysterious hooded killer who may strike again at any time. Can Oshichi solve the mystery and save the lives of those hapless victims?
Starring the fabulous Misora Hibari as the princess turned crime-fighter in one of her best adventures. Along with the ever-popular Okawa Hashizo, this exciting movie blends intrigue with action.

A true classic from Toei's golden era, this is the film that started the Detective Hibari series.
STARRING: MISORA HIBARI, OKAWA HASHIZO
---
Return Policy:
Items must be returned within 14 days .
Refund will be given as Exchange.
Refund policy details:
All DVD's are guaranteed against defects.
Shipping:

Destination: United States

USPS
First-Class Mail®
$2.00
$2.00

Insurance:
Not Offered (Domestic)