MURDER ON D STREET (1998) - REMASTERED
Price:&nbsp
$12.99
---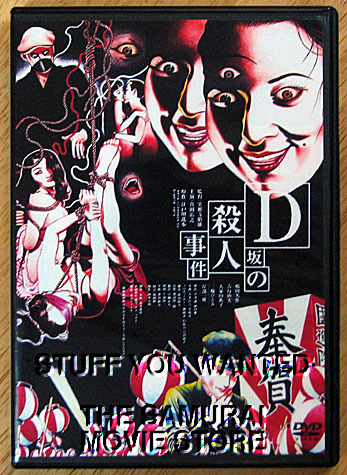 Description:
D-Zaka No Satsujin Jiken (aka The D-Slope Murder Case) - Based on a 1925 novel by Edogawa Ranpo.
The hero is once again Akechi Kogoro, the master detective with an uncanny insight in the murkier reaches of the human heart. The story is closer to a straightforward mystery, though the question of whodunit becomes less interesting than the motives and characters of the victim, suspects - and, of course, the shadowy Akechi himself.
It's 1927, the Dangozaka section of central Tokyo. The story begins in a used bookstore, the store's proprietor is one Tokiko, a woman verging on middle age with a taste for kinky sex. Then she turns up dead - strangled by the sort of rope she once used for pleasure. Suspicion falls on a store employee named Saito, also implicated is Seiichiro (Sanada Hiroyuki), a cross-dressing forger that Tokiko hired to copy prints of bound beauties by a famous S&M artist.
Making forgeries that are impossible to tell from the originals Seiichiro is so confident of his skill - and jealous of the master he copies - that he destroys the originals and gives Tokiko a set of copies instead. Is this warped, if brilliant man also a murderer? Akechi is soon on the case, probing the psyches of the two suspects with his usual foppishly casual, but preternaturally clear-sighted air.
Director: Akio Jissoji
Writers: Rampo Edogawa (novel), Akio Satsukawa
Stars: Hiroyuki Sanada, Kyûsaku Shimada, Yumi Yoshiyuki
1998 - JAPANESE with OPTIONAL ENGLISH SUBTITLES - COLOR - 16:9 ANAMORPHIC WIDESCREEN - 95 MINUTES
---
Return Policy:
Items must be returned within 14 days .
Refund will be given as Exchange.
Refund policy details:
All DVD's are guaranteed against defects.
Shipping:

Destination: United States

USPS
First-Class Mail®
$2.00
$2.00

Insurance:
Not Offered (Domestic)