DATE MASAMUNE: The One-Eyed Dragon's Love and Ambition (1995)
Price:&nbsp
$11.00
---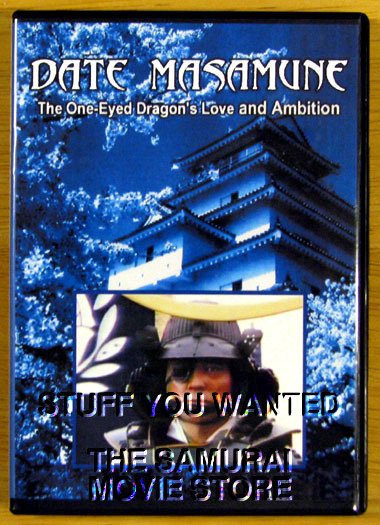 Description:
DATE MASAMUNE: Ai to Yabo no Dokuganryu - From his early days as a wild youth in Oshu, through his development as one of the great Warlords during Japan's historic 'Sengoku' Period (Age Of Warring Clans), this is the story of Date Masamune, the 'One-eyed Dragon'.
Shunned by his mother, he always had to prove himself worthy of his position as heir, and then leader.
A tremendous story taken from the pages of history, starring the talented Shibata Kyohei, best known for his portrayal of Hideyoshi in 'Taikoki', this made for television movie should not be missed.
The action abounds as he learns to be a master of the battlefield during the age when feudal lords sought to control Japan.

Starring : SHIBATA Kyohei, KOTEGAWA Yuko, ISHIDATE Tetsuo, NAGATO Hiroyuki, HARADA Daijiro, HASHIZUME Jun, MATSUKATA Hiroki, SATOMI Kotaro

1995 - JAPANESE with ENGLISH SUBTITLES - COLOR - FULL SCREEN - 145 MINUTES
---
Return Policy:
Items must be returned within 14 days .
Refund will be given as Exchange.
Refund policy details:
All DVD's are guaranteed against defects.
Shipping:

Destination: United States

USPS
First-Class Mail®
$2.00
$2.00

Insurance:
Not Offered (Domestic)