DUEL AT FORT EZO (1970) - REMASTERED
Price:&nbsp
$12.99
---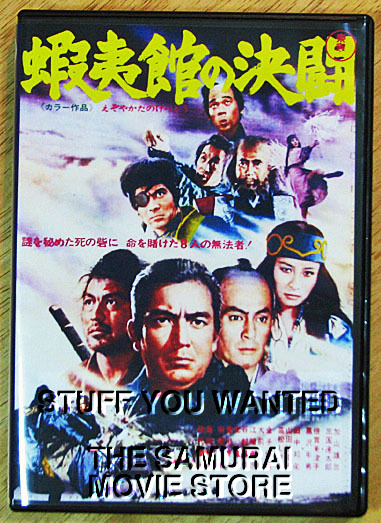 Description:
Ezo yakata no ketto - From an original story by Renzaburo Shibata, creator of the Nemuri Kyoshiro series, this film is a virtual tour-de-force of action and excitement.
In 19th-century Japan, Shimbei, a Tokugawa vassal, is assigned by the Shogunate to a special mission in Ezo. He is joined by Saburota and six other warriors who are being paid by a shipping agent to rescue the daughter of a Russian count being held prisoner by a band of Ezo natives under the leadership of Jirozaemon.
Once in Ezo, the warriors learn that the shipping agent had cheated Jirozaemon while attempting to purchase guns from the Russians, and the abduction is an act of reprisal. All join forces with Jirozaemon except the vassal Shimbei, whose real mission is to recover a supply of gold hidden in the old fortress and bring it back to help bolster the finances of the collapsing Shogunate.
In a battle between the Russian and Shogunate forces and Jirozaemon's band, Shimbei kills Jirozaemon and tries to escape on horseback. Saburota pursues him, and wins the ensuing duel as well as the love of Jirozaemon's daughter.
Director: Kengo Furusawa
Stars: Yuzo Kayama, Rentaro Mikuni and Tatsuya Nakadai
1970 - JAPANESE with OPTIONAL ENGLISH SUBTITLES - COLOR - 16:9 ANAMORPHIC WIDESCREEN - 131 MINUTES
---
Return Policy:
Items must be returned within 14 days .
Refund will be given as Exchange.
Refund policy details:
All DVD's are guaranteed against defects.
Shipping:

Destination: United States

USPS
First-Class Mail®
$2.00
$2.00

Insurance:
Not Offered (Domestic)