DETECTIVE HIBARI (1957) - Edo Girl Detective - REMASTERED
Price:&nbsp
$12.99
---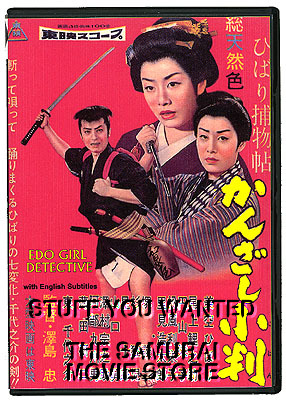 Description:
Hibari Torimonocho Kanzashi Koban
- A princess finds life behind the protection of her brother and the high walls of the mansion to be quite dull, so she takes on another identity and lives in a small house in Edo pretending to be a singer but all the while she is actually a Shogunate Detective.
While investigating the murder of two women she's confronted by a large group of Samurai, whom she fends off with her mastery of the short sword and using various disguises she tracks down the killers.


In addition to fine acting and an intelligent story, there is some excellent swordplay here, with the top action hero Satomi Kotaro teaming up with the heroine as a drunken Ronin with superb sword skills, which are put to good use in having to save her from the murderers trying to avoid punishment.


Starring: HIBARI MISORA, AZUMA CHIYONOSUKE, KOTARO SATOMI


1957 - JAPANESE with OPTIONAL ENGLISH SUBTITLES - 16:9 ANAMORPHIC WIDESCREEN - COLOR - 85 MINUTES
---
Return Policy:
Items must be returned within 14 days .
Refund will be given as Exchange.
Refund policy details:
All DVD's are guaranteed against defects.
Shipping:

Destination: United States

USPS
First-Class Mail®
$2.00
$2.00

Insurance:
Not Offered (Domestic)