JUDO SAGA - 1943
Price:&nbsp
$12.99
---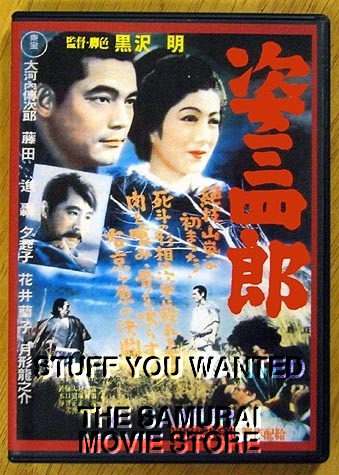 Description:
Sanshiro Sugata - Directorial debut of the Oscar-winning Japanese film director Akira Kurosawa.
Sanshiro, a strong stubborn youth, travels to the city to apprentice at a Jujitsu school, upon his arrival he discovers a new form of self-defence, Judo.

His first night, he sees Yano in action, a Master of Judo, a more spiritual art, and he begs to be Yano's student. As the youth learns technique, he must also learn "satori," the calm acceptance of Nature's law.

Can Sanshiro gain the respect from an old teacher in a Jujitsu school, can he win the hand of Sayo, the teacher's daughter, who is also sought by Jujitsu's finest master, the implacable Higaki, who vows to kill Sanshiro in a midnight fight on a windswept mountainside.
The film itself was quite influential at the time, and has been remade on no less than five occasions. It spawned a sequel, Sanshiro Sugata Part II, which was released in 1945 and is based on the novel of the same name by Tsuneo Tomita.
STARRING: OKOCHI DENJIRO, FUJITA SUSUMU, TSUKIGATA RYUNOSUKE, SHIRMURA TAKASHI
1943 - JAPANESE with ENGLISH SUBTITLES - FULLSCREEN - B&W - 79 MINUTES
---
Return Policy:
Items must be returned within 14 days .
Refund will be given as Exchange.
Refund policy details:
All DVD's are guaranteed against defects.
Shipping:

Destination: United States

USPS
First-Class Mail®
$2.00
$2.00

Insurance:
Not Offered (Domestic)