CURSE OF THE DEVIL'S SKULL (1977) - REMASTERED
Price:&nbsp
$12.99
---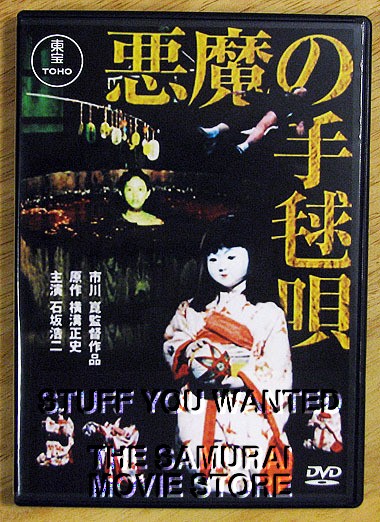 Description:
Akuma No Temari-Uta (aka RHYME OF VENGEANCE/ DEVIL'S BALLAD / DEVIL'S BOUNCING BALL SONG) - Based on the novel about detective Kindaichi Kousuke by Seishi Yokomizo.

In this, the second in the series, detective Kindaichi faces a series of brutal murders taking place in a mysterious mountain village that has been forgotten by time and civilization. But as the rule of mysteries says, there are always beautiful women behind the scene.
In 'Curse of the Devil's Skull' Ichikawa has reconstructed the stagnant air of closed communities after the war, in which people were still living under the strong regime of tradition..... and he visualized decorative - even aesthetic - murder scenes.
This film was nominated for 5 Japanese Academy Awards including, Best Actress, Best Art Direction, Best Director, and Best Supporting Actor.
Wakayama Tomisaburo Won the 'Blue Ribbon Awards' for Best Supporting Actor, AND Kato Takeshi Won the 'Hoichi Film Awards" for Best Supporting Actor.
STARRING: Wakayama Tomisaburo, Kato Takeshi, Ishizaka Koji, Kishi Keiko, and Nishina Akiko
1977 – JAPANESE with OPTIONAL ENGLISH SUBTITLES – FULL SCREEN - COLOR – 143 MINUTES

If you like this, you might also be interested in... Village of Eight Gravestones

---
Return Policy:
Items must be returned within 14 days .
Refund will be given as Exchange.
Refund policy details:
All DVD's are guaranteed against defects.
Shipping:

Destination: United States

USPS
First-Class Mail®
$2.00
$2.00

Insurance:
Not Offered (Domestic)