MINAMOTO YOSHITSUNE (1990) - REMASTERED 2 Disc Set
Price:&nbsp
$19.00
---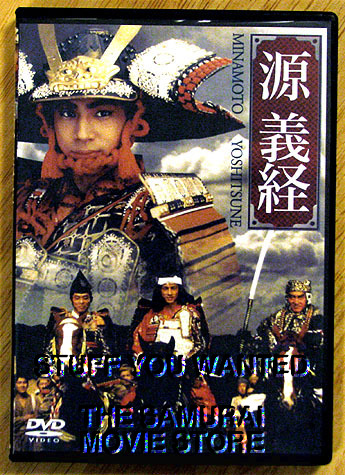 Description:
Minamoto Yoshitsune - Japanese history and legends are full of Yoshitsune's audacious and clever moves, and always at his side the faithful vassal Benkei.

It was the time of the Genpei Wars, when the Minamoto clan finally defeated their arch-rivals the Taira clan in fierce fighting and Yoshitsune was the brilliant military leader of the Minamato. Legend has it that Yoshitsune received his military training from a mythological creature called TENGU, a half-human/half-bird that's a master in martial art.

After his remarkable "mother of all sword fights" against the monk Saito Musashibo Benkei at Gojo bridge, the defeated monk vowed eternal loyalty to Yoshitsune. Benkei's life then took a complete turn, and being the faithful vassal he accompanied his new Lord through numerous adventures and battles.
Stars: HIGASHIYAMA Noriyuki, MATSUKATA Hiroki, SHIMADA Yoko, Sonny Chiba
1990 - JAPANESE with OPTIONAL ENGLISH SUBTITLES - COLOR - FULL SCREEN - 242 MINUTES - 2 DISC'S
---
Return Policy:
Items must be returned within 14 days .
Refund will be given as Exchange.
Refund policy details:
All DVD's are guaranteed against defects.
Shipping:

Destination: United States

USPS
First-Class Mail®
$2.00
$2.00

Insurance:
Not Offered (Domestic)