FLOWER OF THE WINTER (1978) - REMASTERED
Price:&nbsp
$12.99
---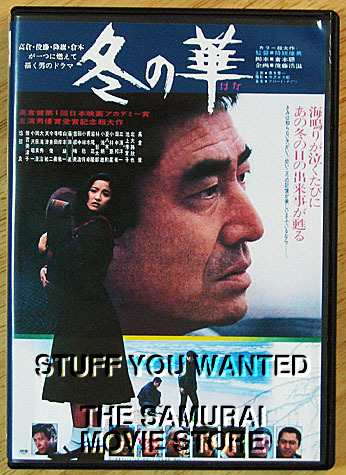 Description:
Fuyu no hana (aka Winter's Flower) - Convicted of murder, a yakuza looks after the daughter of his victim.
Kanou is a Yakuza. He had to kill Matsuoka who had betrayed their boss. Kanou knew that Matsuoka had a 3-year-old daughter named Youko, so before he surrendered to the police, Kanou asked his most trusted man to take care of her. While in prison, Kanou sent letters to Youko, disguising himself as an uncle in Brazil. 15 years later, Kanou is released. He is determined to live legitimately, however... the Yakuza have not forgotten his wicked deed!
A powerful motion picture about honor and the violent ways of the Yakuza.
Director: Yasuo Furuhata
Stars: Ken Takakura, Kimiko Ikegami, Kinya Kitaoji
1978 - JAPANESE with OPTIONAL ENGLISH SUBTITLES - COLOR - 16:9 ANAMORPHIC WIDESCREEN - 121 MINUTES
---
Return Policy:
Items must be returned within 14 days .
Refund will be given as Exchange.
Refund policy details:
All DVD's are guaranteed against defects.
Shipping:

Destination: United States

USPS
First-Class Mail®
$2.00
$2.00

Insurance:
Not Offered (Domestic)