OUTLAW KILLERS: MODERN YAKUZA (1972) - REMASTERED
Price:&nbsp
$12.99
---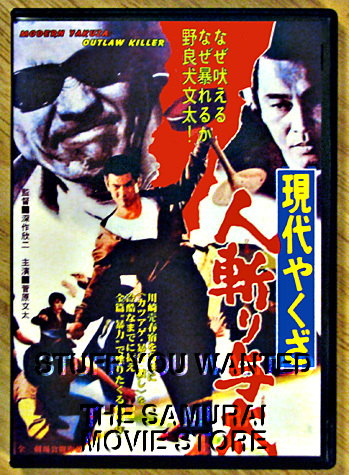 Description:
Hito-Kiri Yota: Gendai Yakuza: - Isamu Okita is a street mobster who likes fighting.

When the Takigawa Gang tried to take over his turf, he initiated a payback killing in a bath house which led to a stint in prison. When released, he discovers that things have changed, and the old gangs no longer have the power they once had. He teams up with Kizaki, an aspiring gangster who suggests to him that he re-unite his old gang and take on the existing gangs for territory.

A sordid tale of gang rivalries and alliances, betrayals and loyalties, takeovers and massacres taking place within the Japanese yakuza.
From Kinji Fukasaku, director of "Battle Royale".

STARRING: BUNTA SUGAWARA, NOBORU ANDO
1972 - JAPANESE with OPTIONAL ENGLISH SUBTITLES - COLOR - ANAMORPHIC WIDESCREEN - 88 MINUTES
---
Return Policy:
Items must be returned within 14 days .
Refund will be given as Exchange.
Refund policy details:
All DVD's are guaranteed against defects.
Shipping:

Destination: United States

USPS
First-Class Mail®
$2.00
$2.00

Insurance:
Not Offered (Domestic)