CHERRY TREE IN THE HILLS (2008)
Price:&nbsp
$12.99
---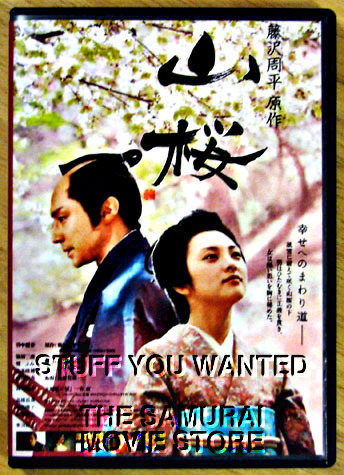 Description:
Yamazakura - Based on a short story written by Shuhei Fujisawa (who also wrote Twilight Samurai, The Hidden Blade, Love and Honor), the film depicts the uneasy life of Noe Isomura with the difficult family she has married into after her former husband passed away.

One day, on the journey back home from her aunt's grave, Noe meets a Samurai under a wild cherry tree, a Samurai who she does not recognize, but who recognizes her. He turns out to be a former suitor that she had never met named Yaichiro Tezuka, a master swordsman who teaches swordsmanship at a local dojo.
Meanwhile, the powerful new chief retainer of the village enacts land policies that threaten the very survival of the local farmers. Witnessing such hardship and suffering Yaichiro makes a hard decision and attacks the official who has been lining his pockets in collusion with a wealthy farmer. A decision which could ultimately change the fate of both himself and Noe....
STARRING: Higashiyama Noriyuki, Takahiro Hojo, Tanaka Rena
2008 - JAPANESE with OPTIONAL ENGLISH SUBTITLES - COLOR - 5.1 SURROUND SOUND - 16:9 WIDESCREEN - 99 MINUTES
If you like this, you might also be interested in... Love and Honor
---
Return Policy:
Items must be returned within 14 days .
Refund will be given as Exchange.
Refund policy details:
All DVD's are guaranteed against defects.
Shipping:

Destination: United States

USPS
First-Class Mail®
$2.00
$2.00

Insurance:
Not Offered (Domestic)