Bean Pot Stoneware Crock Jar #3 – McCoy Primitive
Price:&nbsp $12.95
---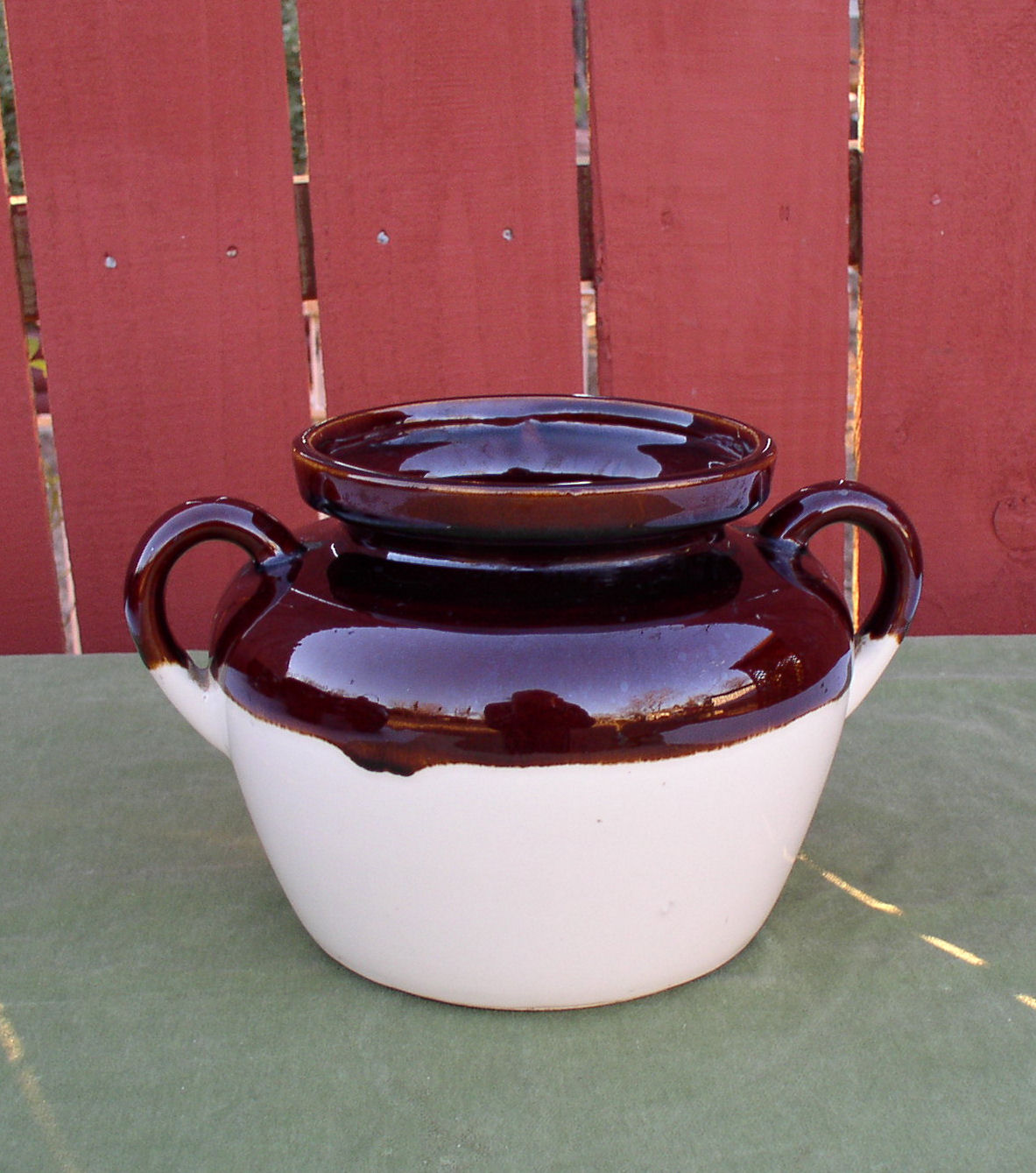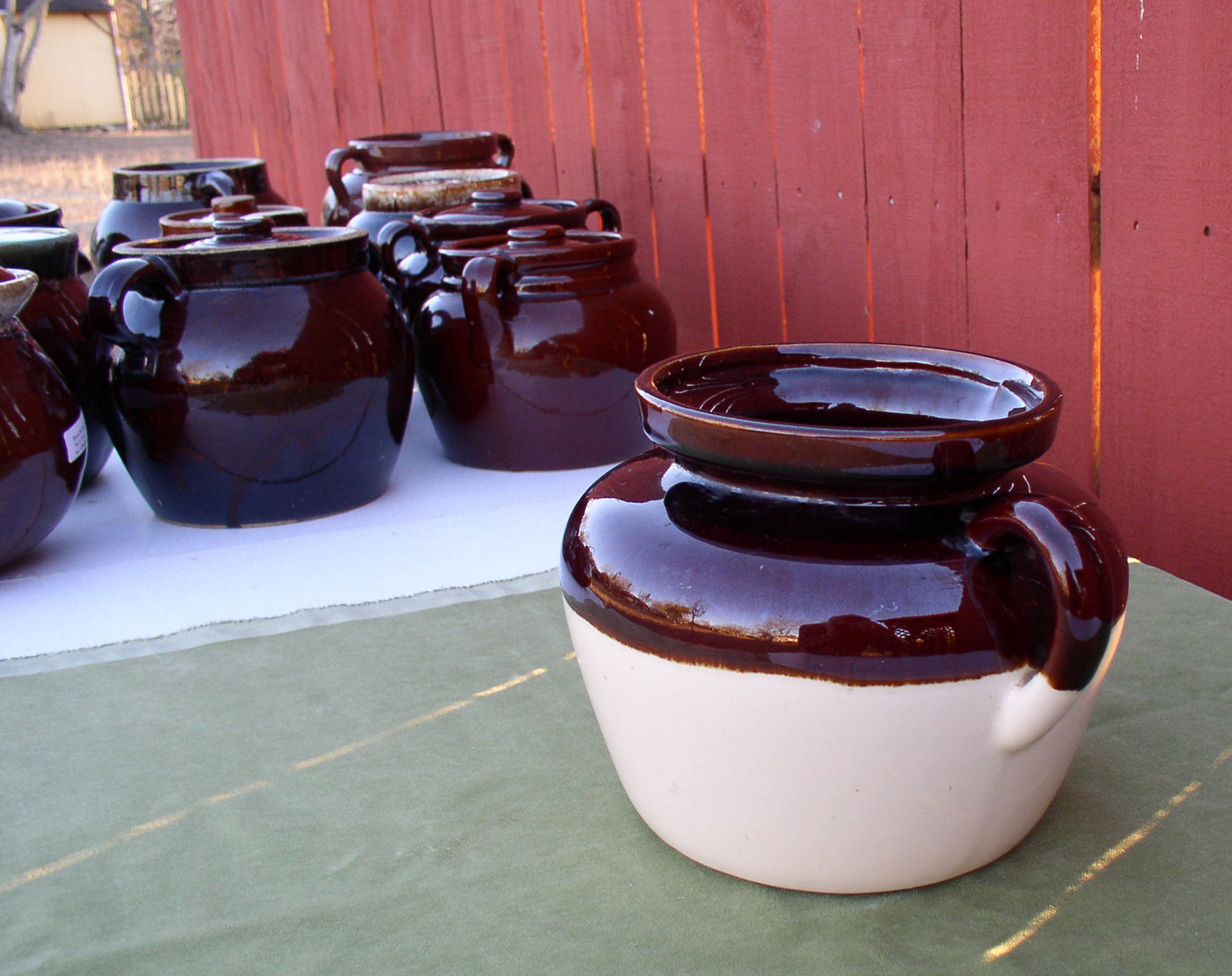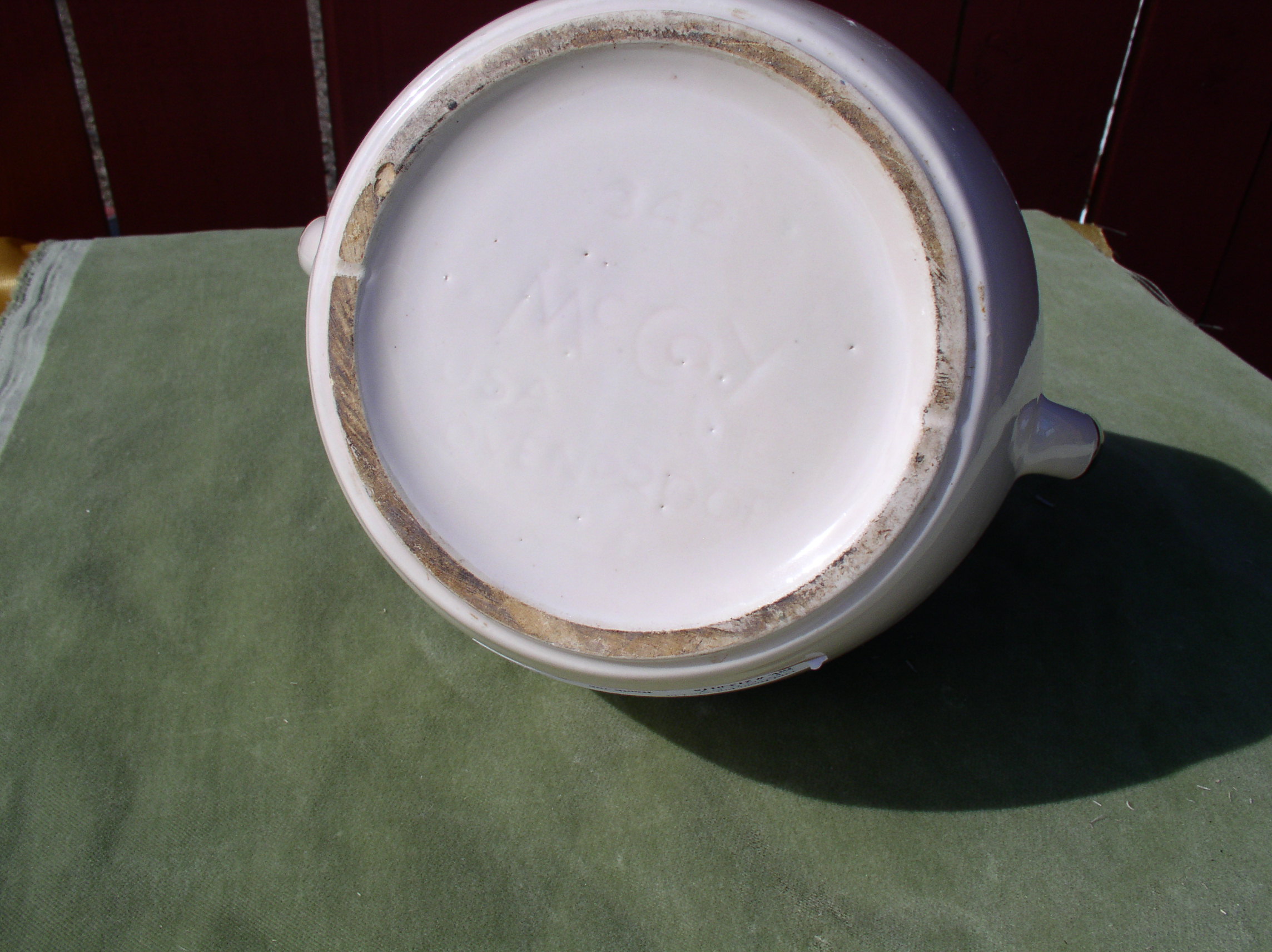 Description:
| | | | |
| --- | --- | --- | --- |
| Main Color: Chocolate Brown/Ivory Bisque | | Material: Ceramic | |
| American Country, Region: USA | | Primary Material: Pottery | |
| Type: Bean Pot Jar #342 | | Original or Reproduction: | Original |
| Maker: McCoy Pottery | | Origin: USA | |
Bean Pot Stoneware Crock Jar #3 – McCoy Primitive
This large sized stoneware crock measures: 6-1/4"T x 10"W handle to handle and a mouth opening of 6" inches wide. This crock is double handled with a two-toned rich dark chocolate brown and creamy beige color which is highly glazed. The incised manufacturer's mark on the bottom states (McCoy – No. 342 – USA – Oven Proof ©). There is no lid with this crock.
As with all handcrafted vintage stoneware, there are bumps, glaze pops and dips and glazing slips within or on the jar from the manufacturing process, but it does not detract from the primitive look or genuine function of this piece. This holds approximately (3 to 4) quarts. Condition: Excellent
Heavy item, therefore shipping charges are posted accordingly. Sorry, can't do any better on this issue. Shipping is expensive everywhere including ordering out of catalogs. It weighs almost (5 lbs.) without the weight and size of the box, packing material or distance calculation and will ship Parcel Post or UPS.
Here we truly have an American Tradition with this Bean Pot Crock Jar available in this listing. I will have 20/30 or so of these being listed in the next couple of weeks in all styles, colors and manufacturers. This is part of a 20 year personal collection that we are liquidating here on eBay. Some of them I have kept and others were for sale in my shop. This was priced at $34.95 in my shop.
Bean Pot Crock Jars were an easy addiction to collect since there were so many various styles, sizes, colors and makers of these wonderfully pot-belly shaped little jars. They come in Stoneware, Ceramic or Earthenware Pottery and can range from very tiny to very, very large in size with all sorts of glaze techniques applied making them as individual as people. Some have advertising logos and slogans, while others have painted designs or hand applied appliqués.
We will be paring down our large collection to the most cherished ones left and then we may even consider liquidating those. So here's your opportunity to own a piece of genuine Americana. I'm selling them for less than I purchased them for over the years individually.
I do not know the ages on most of these we are selling off, but rest assured they are all either vintage, antique or mid-20th century. Most of them will be in excellent to good condition and some may possibly show normal aging with crazing or change in color hues. There are no chips, fleabites or crazing on this particular piece unless otherwise stated above.
This is not Chinese made...all vintage "Made in America". This is truly a part of USA history and made to keep beans nice and toasty right from the oven. It can be used as a grease jar, hold cookies or candy, serve soup or casserole, macaroni & cheese or fruit and puddings as well.
Help support American jobs by buying
"Made in the USA" products.
Amber Alert
Genesis: 42:22
Do not sin against the Child; therefore,
behold, also your blood is required.

---
Return Policy:
I do not accept returns
Shipping:

Destination: United States

USPS
Standard Post®
$15.95

Insurance:
Not Offered (Domestic)