Joe Kapp Vikings 1969 Jersey NFL 50 Patch-Customizable
Price: $204.00
---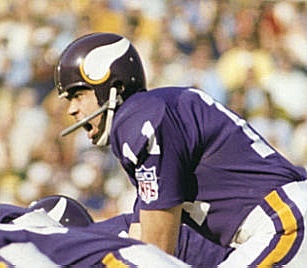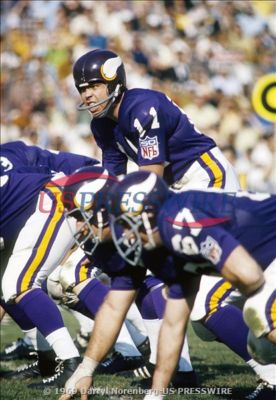 Description:

www.yesteryearsports.com Visit us at our store for our entire VIKINGS & NFL inventory.
ORDERS MADE THROUGH MY WEB SITE RECEIVE 5% OFF - use "ebay" as the coupon code when you check out.
JERSEY WILL LOOK EXACTLY AS SHOWN IN PICTURE. YOUR SATISFACTION IS GUARANTEED.
Authentic Minnesota Vikings ALTERNATE ALL PURPLE home jersey w/ NFL 50 Patch
This all purple jersey was only worn during home playoff games in 1969 - '70
This is a customizable NFL classic throwback
Classic and unique 1960's NFL Cotton Yarn Material from Yesteryear
Pick any Vikings player you want or get this classic in Joe Capp # 11 as shown
Order now to get it in time for the upcoming football season!!
1969 Vikings Jersey Details:
The '69 purple HOME uniform showcased here, though almost identical to the inaugural version of 1961, was not the only HOME sweater worn for this season. The Vikings wore another HOME jersey in '69 – a simpler, more basic jersey. Just imagine the traditional Vikings' purple sweater MINUS the sleeve striping, and yellow trim around the numbers. We chose to produce this jersey because the Vikings only wore it only in their home playoff games. And it's just a cool looking classic jersey.
Note the NFL patch on the left shoulder of the jersey. This patch, worn to commemorate the NFL's 50th anniversary, was worn by all teams in '69. Of special note, the NFL 50 patch was also on the 'alternate' jersey mentioned above – but its location was not on the left shoulder, it was worn on the lower left sleeve directly below the uniform numbers.
Just think you can have this in a 1/2 inch, 3/4 inch or long sleeve as the Purple People Eaters did.
LARSEN, PAGE, MARSHALL and ELLER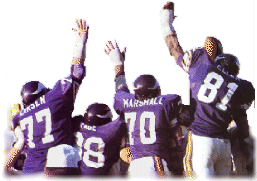 Write this info down before you order:
1 - player / number
2 - sleeve length - 1/2, 3/4, full length
3 - size
I will email you for this after
These are custom jerseys that take time to properly complete. Please allow six to ten weeks for delivery.

You are getting a unique NFL quality jersey just the way they were made back in the old days. Using cotton yarn material that is often referred to as durene. See below for the difference.
Feed back left for this jersey: Incredible jersey...great communication.
Please see all feedback left for Yesteryear Sports. We sell quality.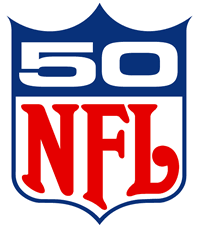 Classic NFL
Cotton Yarn Vikings Jersey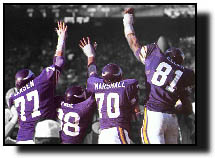 Football Jerseys: Measurement Chart:
Sleeve Length is measured from top of armhole to bottom of sleeve

Body Length is measured from top of neck on back to bottom of jersey
Size BODY LENGTH BODY WIDTH 3/4 SLEEVES FULL LENGTH SLEEVES
40 - M 33" 20" 21" 25"
44 - L 33" 22" 21" 25"
48 - XL 33" 24" 21" 25"
52 - 2XL 35" 26" 21" 25"
56 - 3XL 37" 28" 21" 25"
60 - 4XL 37" 30"

21" 25"
64 - 5XL 37" 32" 21" 25"
TO ALL MY CUSTOMERS:
Durene material is nothing more than a sales gimmick in today's market. We here at Yesteryear Sports have done a lot of research on this. And we have finally tracked down a reputable source who has been making football jerseys since the 60's.
This is the letter that was sent to me by my supplier and head jersey manufacturer:
Technically, the cotton yarn we now use is not "durene". The product we used to buy as Durene cotton was simply a very fine grade of yarn. It was a government standard that had to be met in order to call it by that name. It was a finer gauge yarn, advertised as being softer & stretchier than normal gauge combed and/or carded cotton we use today. It was really a sales gimmick and ended up being used in sox, underwear , etc. It was really not that much different from today's products, just finer spun yarn. Like so many other things, it is still available but is very expensive which is why athletic apparel makers stopped using it.
The irony of the whole thing is that our material (and all the other manufacturers) was a 50/50 plaited knit fabric which means half the yarn was nylon on the outside surface and 50% cotton was on the inside next to the skin. This was for comfort & absorbancy. The result was that all you see is the nylon so the fabric looks exactly like any other fabric with nylon exterior. Actually, the cotton yarn we use now is more durable for football than Durene ever was.
Hope this gives you some insight into the history of Durene. It was a selling tool and 99% of people couldn't tell the difference.
Yesteryear Sports will never advertise any of our jerseys again as "durene". We did our research and took all of your input and put that to work to find out what all the uncertainty was among everyone. Well, we now know.
---
Return Policy:
Items must be returned within 7 days .
Refund will be given as Exchange.
Refund policy details:
null
Shipping:

Destination: United States

STANDARD
Standard
$0.00
$0.00

Insurance:
Not Offered (Domestic)