Racing Rally stripes for any Mazda Miata decals w/ pin
Price:&nbsp
$52.99
---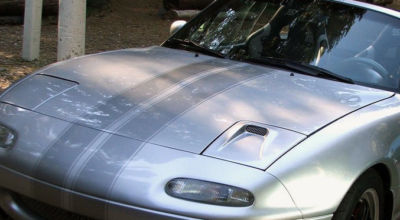 Description:
This auction is for an 6" wide SILVER* dual Mazda Miata Racing stripe kit with pin stripe. This is an inexpensive way to give your car that unique, sporty look!

You get 204" of material with this kit.You'll have a 5" solid stripe with a .25" gap & .25" pin. You get exactly what you see in the picture, cut in 68" long sections. You will have 3 sheets of stripe (exactly how you see it in the picture) 68" long. All of our decals are cut fresh when ordered from professional grade, outdoor material. Our decals come with application instructions. Decals come with transfer tape on top so everything stays perfectly aligned!

*AFTER PAYMENT IS MADE YOU MUST:
SPECIFY KIT COLOR (If you don't want

silver

)

COLORS AVAILABLE:

RED, ORANGE, YELLOW, GREEN,

IGUANA GREEN,

SAPHIRE BLUE,

ROYAL BLUE, NAVY BLUE, PURPLE, PINK, LIGHT GREY, DARK GREY, SILVER, GLOSS BLACK, FLAT BLACK, WHITE, COPPER METALLIC, GOLD, MAROON!



---
Return Policy:
I do not accept returns
Shipping:

Destination: United States

USPS
Priority Mail®
$14.99
$6.75

Insurance:
Not Offered (Domestic)