Get your very own Light Up, rice LED, battery operated, Fairy Bottle Charm Necklace!


LED Bottled Fairy charms require THREE (3) AG10 Button Cell Batteries. The batteries ARE replaceable and are located in the magnetic clasp of the necklace. Connect the clasp on one side and have your fairy light up or connect it on the other side and wear your fairy during the day time without her magic powers (lights) on!


The fairies are contained in their own tiny, glass bottle charm. Each charm gets a corresponding color ribbon necklace!
The fairies also have a sprinkling of GLOW-in-the-Dark glitter for extra fairy fun!
Available Charms**:
Blue
Fairy (LED) - Navi in a Bottle
Green
Fairy (LED) - Forest in a Bottle
Pink
Fairy (LED) - Spryte in a Bottle
Purple
Fairy (Black Light UV LED) - Tael in a Bottle
Red
Fairy (LED) - Leif in a Bottle
White
Fairy (LED) - Neri in a Bottle
Yellow
Fairy (LED) - Tatl in a Bottle
Tatl and Tael Set - Yellow

and Purple
Fairies (LED) in Bottles (TWO (2) Necklaces!)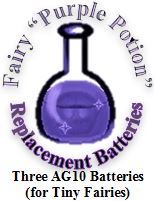 ** The fairies are unique and are made individually by hand. They may vary slightly in hue/detail from the photo.